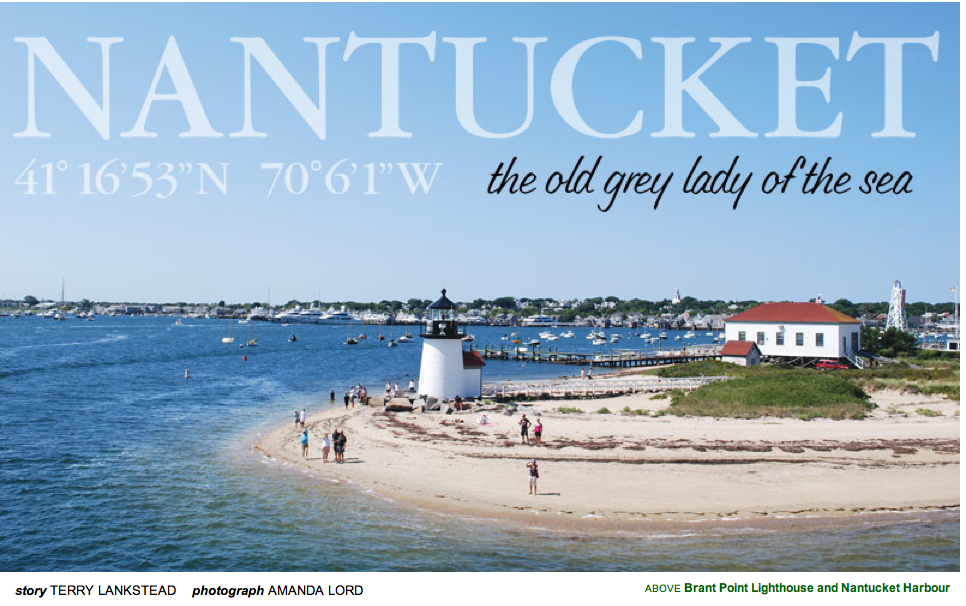 She can be shrouded in fog for days and she's populated by grey-weathered shingled houses. Her wide-open vistas offer an uninterrupted view of the Atlantic. Combine innate beauty with centuries-old charm and it is befitting that Nantucket is nicknamed The Old Grey Lady.
When the mystical fog lifts – and this can happen as surprisingly quick as its arrival – a magical land of vibrant colour is unveiled. From incomparable ocean views inward to endless sandy beaches, open heath-like moors with abundant wild Rugosa roses, Scottish heather, pines and grasses, to serene ponds, salt marshes, creeks and cranberry bogs, Nantucket's diverse natural landscape has everything to offer. The flora and fauna reflects the island's rich history of settlers who were originally lured there to hunt the great whales that flourished primarily off its southern shores.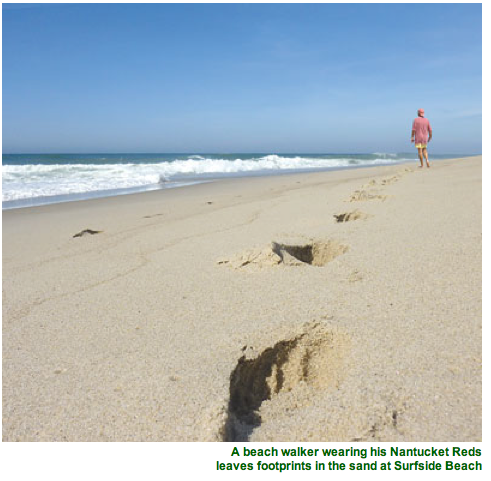 The Way To Go
Getting there is not the easiest of tasks and islanders wouldn't have it any other way. They know it is well worth the added effort created by being isolated from the mainland. It is about an eleven-hour (960km) drive east from Mississauga– in our case it was 15 hours in torrential rain– via the New York Thruway, the Mass Turnpike and down the 495 to Hyannisport, MA.
From here you will scramble to park your car and catch a one or two-hour ferry depending on whether you choose the quicker but more expensive fast ferry or one of the slower boats. You can take your vehicle on to the island, but this involves booking well in advance. Bicycles are the preferred mode of transport; bring your own or rent once you get to the island. Jeeps are available for hire and there are also taxis and buses to get you to your beachhouse with all your luggage.
If you are looking to maximize your time there, flying might be the best way to go. A flight to Boston and a connection to Nantucket could get you to 'ACK' the airport code for Nantucket Memorial Airport in as little as four hours, if you time it right. You may recall that this famous airport was the setting for the hit 90s hit TV series, Wings, although, it was renamed Tom Nevers Field for the Nantucket sitcom. However you get to the island, once you set foot on its sandy soil, breathe in the salty air, and prepare to fall in love with the old grey lady.
Whaling and Cranberries
Settled in 1659, the island 25 miles (approx.40 km) southeast of Cape Cod Massachusetts, was a whaling centre until the late 1850s. Cranberries and tourism are now the island's mainstays. In fact, the Milestone Road Cranberry Bog is one of the largest in the world.
Some of these cranberries are added to the famous juices of Nantucket Nectars, a growing juice business launched by the Two Toms– Nantucketers, Tom Scott and Tom First who attended Brown College together. Their juice products are hugely popular in the New England area and they are available here through Cadbury Schweppes in Mississauga.
Cisco Brewers and Nantucket Vineyards
When it comes to libations, Nantucket has it covered, with Cisco Brewers, Triple Eight Distillery and Nantucket Vineyard all at the same location on Bartlett Farm Road near Cisco Beach. I highly recommend the aptly named Whale Tale Pale Ale. And if you visit the brewery, I do recommend a visit to nearby Bartlett Farm to pick up one of their famous fruit pies and take in their wildflower farm.
Cisco is the island's hottest surfing destination. When I say hot, I mean you can sit there on the beach and watch more the 20 surfers of all ages and skill at any one time. Surf schools and camps are available, and Nantucket Town has a few surf shops to get you started. Cisco is also a popular destination to try out the latest craze, Skim Bungee. Check it out on youtube.
A Beach Lover's Paradise
Cisco is just one of several different kinds of beaches available to island visitors. Boogie-board, big surf destinations on the south and west sides include the picturesque Surfside Beach, Nobadeer, Miacomet, Madaket and Cisco. These all offer foot-therapy cushioned sand, protected by a picturesque backdrop of grassy moorland. Surfside is perfect for morning walks, where you will find large clamshells amongst other attractive seashells and even the occasional sand dollar washed ashore. You are almost guaranteed to see a few seals frolicking just past the surf break, as well as the occasional 'protected' colony of Turns that enjoy dancing around the wash, looking for small sand crabs.
Family swimming in calmer waters is available at the town's Children's Beach as well as on the north shores of the island, at beaches like Dionis and the hugely popular Jetties Beach that also features a beachside café, shop and boardwalk. At Jetties you can watch the ferries arriving, yachts racing and fishing boats leaving to collect their haul of lobster or crab. There are also gorgeous tennis courts available to rent by the hour. Before you play, be prepared to sweep off the seashells dropped by hungry seagulls.
Catch of the Day
If fishing is your thing, look no further than Nantucket's Straight Wharf, where you can charter a boat to catch bass, stripers bluefish and the highly-sought-after blue fin tuna. If that is too ambitious for you, just take your rod down to the beach and fish for the mighty bluefish. At the end of the day I recommend fishing on the west side of the island at Madaket, where you can enjoy spectacular sunsets. Madaket is also a decent bike ride (8km) destination from town. The loop will also take you past the picturesque Long Pond.
Tales and Great Whites
Nantucket has proven to be an inspiration to artisans and writers – including Elin Hiderbrand, Nathaniel Philbrick, Peter Benchley and Herman Melville. The 1851 classic, Moby Dick is based on the tragedy of the Nantucket whaleship Essex, which was attacked by a sperm whale while at sea, and sank. This storied whaling past is highlighted at the Nantucket Historical Society's recently renovated whaling museum.
In addition to the museum, the old grey lady supports three lighthouses including Brant Point, America's oldest lighthouse station, as well as four golf courses, an 18th century windmill, the Maria Mitchell Observatory, 50 miles of beaches and a town centre that oozes history.
According to local author/photographer Robert Gambee "No other town in America today has as many homes (over eight hundred) built in the period 1740 to 1840, almost all of which are located in their original settings."
Also of note, Nantucket has no traffic lights, neon signs, or fast food franchises. The 10,000 year-round residents prefer it that way. At the height of the season this population surges to 50,000 during peak season.
Shopping
From its marina of luxury yachts, sailboats and fishing charters to its cobblestone streets and world-class restaurants, the town centre has it all. Enjoy unique souvenir shops and knick-knacks for the home and don't forget to check out the famous Nantucket Reds clothing available at Murray's Toggery Shop and the Nobby Clothes Shop. You can easily spend an entire weekend exploring the historic town. Its unique character and charm are reflected in its classy hand-carved shop signs. Traditions have been maintained in every picture-perfect streetscape.
From the moment you venture off Nantucket Centre's Main Street on foot, blades or bicycle– Nantucket has an extensive picturesque path system –the sweet perfume of the well-manicured privet hedges overwhelm you. The island's grey-weathered complexion is partly due to its strict building codes that see any new build adhere to Nantucket's traditional cedar shingled and dormered appearance. These shingles grey rapidly courtesy of the salty sea air.
Siasconset Village and Sankaty Head
If you are staying at one of the many Inns or B&Bs in town, do not forget to venture out to the quaint village of Siasconset (pronounced 'Sconset for short). 'Sconset is a hot destination for tourists and garden lovers alike and it was the first spot in America to welcome the dawning of the millenium. From June to early July, witness the intense display of climbing roses that grace most of the charming centuries-old cottages.
Carry on from 'Sconset to Sankaty Head Lighthouse, which was cleverly moved 400 feet away from the bluff in 2006, to avoid the ravages of soil erosion. Some say, from this vantage point if you look out past the sheer drop, you can see Portugal (perhaps with the Hubble telescope).
In July, in addition to the blossming privet, hydrangeas reign supreme. Their unique purples front numerous cottages and beachouses on the island. In August, the Rose of Sharon and Black-eyed Susan come to the forefront. The Town gardens never fail to impress passers-by when strolling along the red brick walkways. They greet you when you get off the ferry and they are one of the last things you see before boarding for the melancholic return back to the mainland.
At the end of your visit, after the ferry pulls away from the dock, find yourself a penny, as it is a Nantucket tradition to launch one into the sea as the boat rounds Brant Point Light. This will assure that one day you will return into the welcoming arms of 'the old grey lady.'