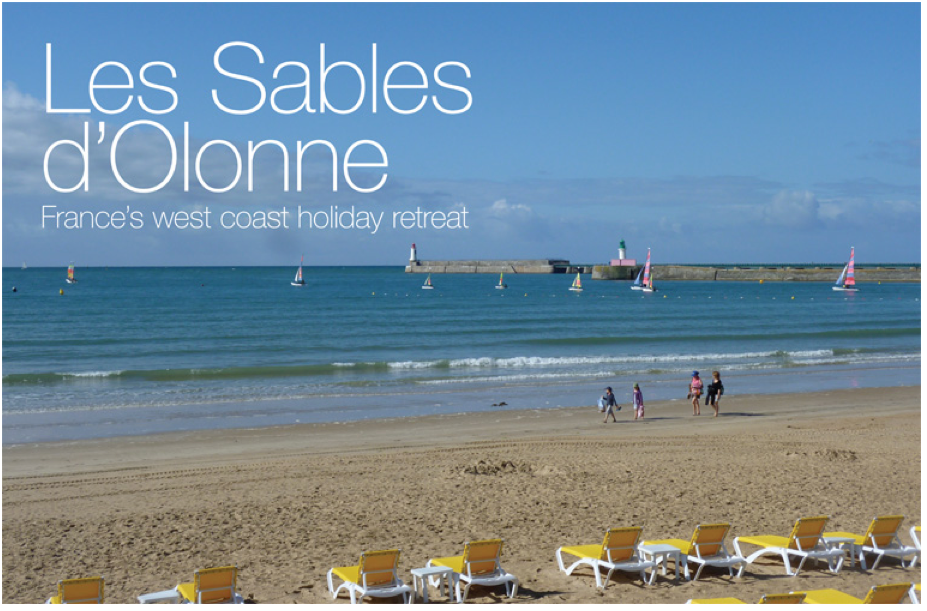 We boarded the TGV at Gare Montparnasse almost ready for the second leg of our summer family vacation.
I say almost because there is always something else you hoped to do, or someplace else you really wanted to visit in Paris, but that only means you will have to return again someday. I find it is important when travelling, to cherish the experiences you have, rather than lament about what you didn't see or accomplish. This is particularly poignant when it comes to Paris, the city of light, where living in the moment, lapping up the atmosphere, the café culture, its breathtaking architecture, and heightened sense of style, is of parallel importance if not more, to visiting the art galleries, Notre Dame, that famous tower, cruising on the Seine and shopping on the Champs-Elysées. And let's not diminish the importance of sampling all the yummy baguettes, runny cheeses, croissants, crepes, chocolates and inexpensive wines. Ca c'est Paris!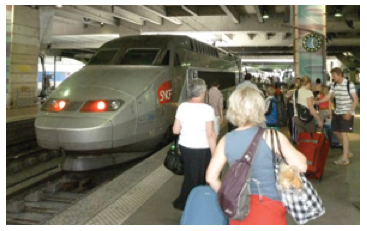 But at this point of our journey—the waiting to catch the train point—I was heaving with excitement, not because we were about to bid au revoir to a world class city that had become wall to wall people on a sweltering July weekend, but because we were about to board arguably the fastest train on the planet, clocked at speeds of 320kph.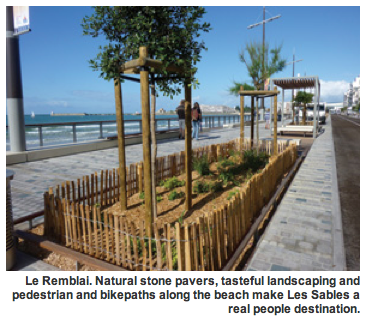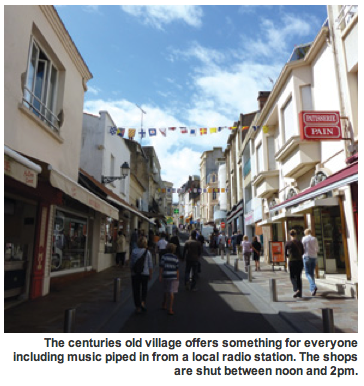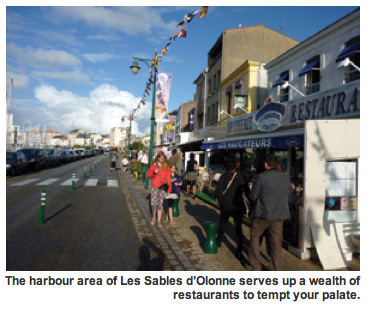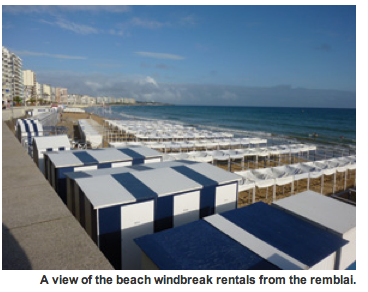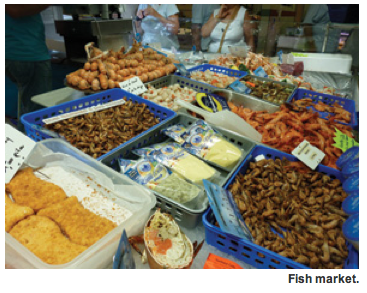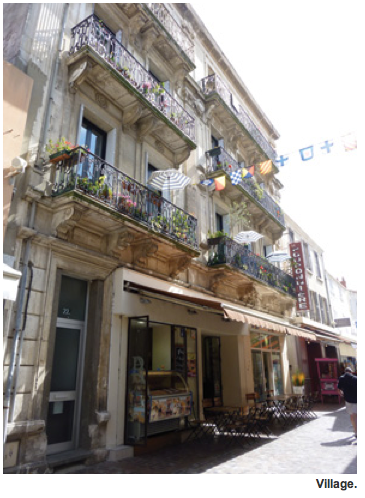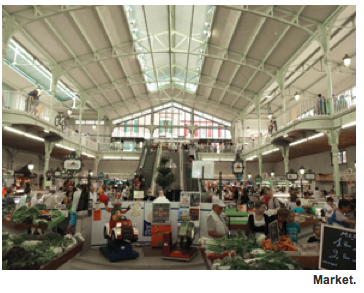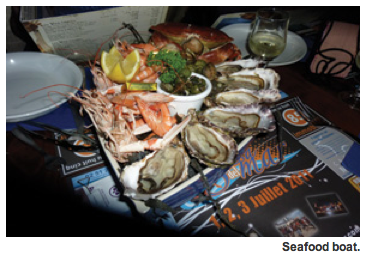 The 404 kilometre journey from Paris southwest to Les Sables d'Olonne ordinarily takes about six hours via the French National Railway (SNCF), but the high-speed TGV (Train à Grande Vitesse) service vaults you there in just three hours twelve minutes! Of course it is pricier but it was worth it for what was inevitably an experience our family will never forget. This is the sort of travel that Ontario and Canada should strive towards.
Once you've cleared suburban Paris and the speedometer of this electric rocket quietly sneaks (the train itself is almost silent unlike the clickety clack of regular rail travel) up to a staggering 320kph, do you truly appreciate its sheer speed as the beautiful French landscape consumes the TGV's picture windows with a blur of yellows, blues, greens and wind turbine farms.
I have never seen so many wind turbines on one journey. We left Paris in the sunny heat of midday and arrived at Les Sables d'Olonne in the Pays de la Loire cloaked in drizzle and grey. But one of the locals assured us it will soon pass as it always does later in the day. She was right. By the time we were settled and unpacked at our quaint welcoming French hotel Les Hirondelles, the clouds had dispersed and drenched the courtyard in sun and um… ladybugs (le coccinelles)!! The tables and sun chairs were alive with orange and black spots. We chose to ignore them, shared a cocktail with the extremely friendly owners Regis and Olivia before our two minute dash across the street and the sprawling beach "sands of Olonne" (Les Sables d'Olonne) to dip our feet into the cool waters of the Bay of Biscay.
Ah oui, this is why we came here. The lure of the sea, the fresh local fruits de mer and a chance to enjoy a true French seaside holiday destination away from bustling tourist resorts like La Rochelle to the south (certainly worth a visit but a different kind of experience altogether). We visited in early July, thankfully just before the French school holidays began, so sharing our beach holiday with a few ladybugs was a small price to pay for not having to fight for beach towel real estate each morning.
To think that just a few hours ago we were lugging our baggage around the streets of Paris and now we were snacking on Chichis from Casa Chichi (France's answer to Beaver Tails or Mexico's Churros – long corrugated fingers of sugared fried dough presented like a bouquet of flowers) watching the sunset over the Bay of Biscay. Les Sables d'Olonne delivered everything we hoped for and we had yet to explore the centuries old village and port.
The port in the 17th century was the largest cod-fishing port in France. Today the French tourist destination is rather well known amongst the sailing set as it serves as both the start and finish for the famous Vendée Globe, a round-the-world single-handed yacht race. Founded by Philippe Jeantot in 1989 the race happens every four years from November to February and Mississauga's own Derek Hatfield participated in the 2008-2009 event. Regretfully he had to abandon the race on the 50th day due to "broken spreaders." I'm not sure what that means but it sure sounds important. You can read online about the Port Credit Yacht Club racer in the Summer 2008 issue of GoodLife.
Les Sables d'Olonne's rich sailing history is no more evident than the moment you hit its sugary sand beach. When you face the sea look to your right and colourful catamaran sailboat rentals are mingled in with a multitude of beach amusements for children: Trampolines, bouncy castles, slides, cordoned off soccer pitches and bungee bouncers. Look out to sea and there is always a parade of colourful sailboats and windsurfers headed out to take advantage of the ever-present sea breeze.
The winds are so prevalent at this beach resort, that rows upon rows of windbreaks front the ocean like market stalls. The only market here however would be of the exposed human skin variety. I scratched my head when I first happened upon this unique beach architecture but after performing a Mary Poppins routine with the beach umbrella, I gained an appreciation for the windbreak huts. They also provide privacy from those who should not be wearing Speedos. Our group retreated to them a few times but worshipped the sea view too much to linger there for more than an hour.
And oh what a view it is! The beach is set within a bay thanks to the lighthouse breakwall to the north that helps form the inner harbour, home to over a thousand vessels, and the beach curves around to the south as well, where rock-poolers like to gather when the tide goes out. The surf is perfect for families most of the time with smaller gentle waves that only become surfer friendly when the wind really picks up. It is an ideal setting for the kitesurfers who are drawn there, but during our stay in early July only the windsurfers and sailers were out in full force.
If you're the type to become bored with lazing on the beach, flying kites, building sandcastles, and reading, you might want to join a game of beach soccer or to stroll into the picturesque shopping village where the sound of the waves is replaced by unobtrusive music from a local radio station. A soundtrack of wartime songs emanates from strategically placed speakers above the old village of Les Sables d'Olonne. In some ways the city is almost like Quebec City on a much smaller scale. It has its newer developed business side and its quaint old village that oozes character and charm.
Visitors will spend most of their non-beach time here visiting pâtisserie, chocolatiers, eclectic shops of every description, funky clothing and shoe shops, and a massive central market., 'Les Halles Centrales' (designed by the Les Sables Architect, Charles Smolski in 1890).
Here, you can gather provisions of brie, camembert and other runny cheeses, artisanal breads, pastries, fresh catches, cockles, winkles, local oysters and anything else you would expect to find in a French market.
The village streets harken back to yesteryear in every way, from cobbles to shuttered stone buildings and white washed houses with scalloped clay tile roofs. There is also a gothic church Notre Dame de Bon Port built by Richelieu (Bishop of Lucon) in the 17th Century, a Benedictine Abbey and a 15th century chateau nearby.
After a day exploring the shops and beachfront, we would pop back to Les Hirondelles to freshen up. Whilst waiting for the family to gather for an evening out, co-owner Regis is more than happy to pour you a pint and test out your French language knowledge or lack thereof. He takes a little too much joy in my struggle to find the right words to convey our love for the area.
When asked where to go for good seafood, he pointed in every direction, so we chose to head for Le Remblai, which is lined with hotels, restaurants, cafes and shops all of which have impressive views of the sea. Enjoying a café crème and watch the day go by. Pretty much everything is within walking distance and no sooner had we set out, than we happened upon a number of holiday homes covered in shell and broken tile mosaics just tucked away behind the Remblai. They are stunning and unexpected. Created by artist Mme. Arnaud Aubin the art depicts mostly nautical themes, although some border on the macabre and they often tell a story.
We headed back to the Remblai and over towards the casino, arcade and antique working carousel which kept the children rather interested.
Once we arrived in the harbour area we found it difficult to choose between so many restaurants. Most offer several reasonably priced and highly recommended prix fixe menus as well as a la carte choices.
Here is where you will really put your high school French to the test for as I mentioned Les Sables d'Olonne is a holiday destination for people who live in France. It helps to have some basic French knowledge and the locals are very patient and welcoming. Some of them also enjoy trying out their English skills.
After stuffing ourselves with les langoustines (Norwegian lobsters), les moules (mussels) and les huitres (oysters) we walked along the pier, took a ride on the seafront carousel and made our way back along the Remblai passing many happening bars to collapse and prepare for another day of lazing on the beach. This is the Good Life.