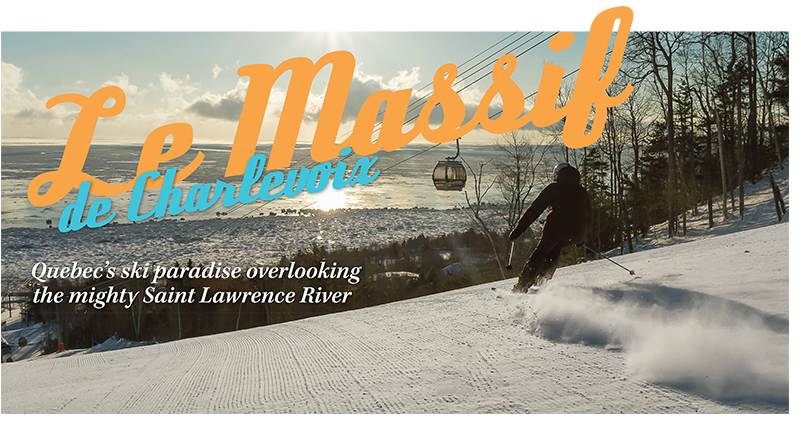 story Terry Lankstead photographs Le Massif de Charlevoix

Over the din of players taping up shin pads and discussing ski trips, I announce to the Friday night hockey crew that I'm going on a ski trip. At this point, Mississauga's Greg Blackhurst leans out from the end of a row of middle-aged dads grunting over their skate laces.
"Ahhh, Le Massif?" asks Greg, a perennial mountain man by nature. If it involves a mountain bike trail or ski hill, chances are he has done it. "You're gonna love it," he exclaims, with his eyebrows at attention and grinning from ear to ear. "They have the best snow in Quebec and," he pauses, "the food,…the food, the food, the food," he declares as his eyes grow wider and wider. I thought they were going to pop right out of his skull.
I was already looking forward to the experience but that sealed it, as we got up to take to the ice.
GETTING THERE
Finding your way to the Charlevoix area, just an hour north of Quebec City, via a 9-hour drive from the GTA, is fairly straightforward. Just head east to Montreal and keep going for three hours until you reach Quebec City. Then hang a left and head northwest on Route 138 and watch out for moose. Although the province has cleverly erected fences that channel wayward moose to tunnel underpasses, there are still some giant hoofed mammals that disregard the signs, according to Katherine Laflamme, press liason for Le Massif de Charlevoix.
Fortunately, I only experience this final approach road as I am lucky enough to fly the one-hour from Pearson to Quebec, where I am met by an extremely informative driver, Steve. His English is stellar– I expected Quebeckers in this area to be primarily French speaking – and his knowledge of the area is thorough, to be conservative. It turns out he is also an area tour guide.
Steve points out a number of notable sights including Ile d'Orleans, an agricultural island accessible only by bridge in addition to the spectacular Montmorency Falls, which apparently is usually a giant icicle this time of year. He also gestures towards the exit for the famous ice hotel and explains that you must be very hardy to stay the night, or to be able to hold it until morning. Apparently, going to the bathroom is an Amazing Race-like challenge. Translation: It's a cold trip to the lavatory.
The drive from Quebec is "tres spectacle," with the eastern arm of the Laurentians on the left side dropping off to the ice-floe parade of the mighty Saint Lawrence River on the right.
Following the winding river northeast, the unfolding mountain landscape of pines, birches, and covered porches becomes increasingly cloaked in white, sending this skier's pulse into anticipatory overdrive. The closer the km markers count down to Le Massif, the higher the RPMs on the excitement gauge.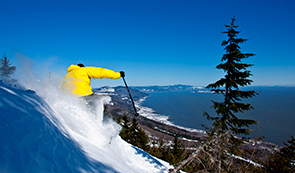 ORIGINS OF LE MASSIF
Reading an inspiring Ski Canada article about the rapid evolution of Le Massif, hugely and justifiably credited to the vision of Cirque Du Soleil co-founder Daniel Gauthier and his love for the Charlevoix, I can not wait to experience his dream first hand. Selling his Cirque shares in 2000 enabled Gauthier to invest $9-million to purchase Le Massif and $230-million later, the resort is well on its way to becoming a world-class ski destination. Recently, Le Massif was chosen Travel and Leisure's 'Top 13 Most Interesting Destinations to Visit,' one of The New York Times' '46 Places to visit around the Globe' and won the SBC Resort Guide Editors' Choice Award for the Best Terrain in the East. According to Condé Nast Traveler readers, Le Massif de Charlevoix is the third most beautiful mountain in Canada.
Formed by an exploding meteorite 350 million years ago, the Charlevoix valley is idyllic with sea and mountain views, sprawling farms and quaint villages. The view from Le Massif becomes even more impressive as you carve your way down. My mountain guide, Alexis recommends Le Petit Rivière (named after the closest town Petite-Rivière-Saint-François) as one of their best scenic runs. On this intermediate groomer you can seemingly ski right down into the Saint Lawrence. I had to keep stopping to capture the views and catch my breath. The mountain offers numerous picturesque summit-to-base intermediate and advanced runs and there is enough to challenge experts as well. They even have a triple black diamond run (super steep) if you are up to it.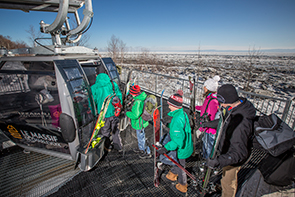 THE MOUNTAIN
At 770m Le Massif claims the highest vertical east of the Canadian Rockies. And if you are looking for the best chance to experience a powder day in the east, Le Massif is your best bet with an average annual snowfall of 645 cm. There was a decent amount of snow when I was there in early January and most of it natural. Snowmaking comes into play at the bottom tenth of the mountain where a warmer microclimate courtesy of the salty Saint Lawrence reduces the frequency of fresh pow. So the bottom can become a bit icy late in the day if mother nature has not been kind.
No worries for icy bottoms though, because uniquely at Le Massif, many of the beginner runs (including learn-to-ride classes) are at the summit, along with parking and the main lodge. Newbies need not feel restricted to the base of the mountain. Yes, if you are driving you can park at the top and start your day with a warmup run rather than a gondola lineup. Although, lineups at the base only happen during peak days over the Holidays and Quebec school break.
Le Massif is still a bit of a secret to the masses, so I advise getting there before the word is out and Daniel Gauthier's big plans for the resort are complete. This way you can experience the resort in its infancy and say, "I remember when there was nothing at the base but a gondola for the train…"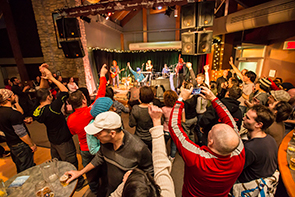 THE RESORT
Le Massif is in a transitional phase right now. It is still growing. In place at the moment are chalets near the summit, some private slopeside residences, a luxurious summer gastronomic train journey from Quebec City and a scenic train ride taking skiers and boarders from the base of the mountain to Le Massif's world-renowned Hotel La Ferme
I highly recommend this trip to the mountain if you are staying in the quaint restaurant and-boutique-rich Baie St. Paul. This village is teeming with galleries, overflowing with art and creativity at every turn. In fact, when I was there, the galleries outnumbered the visitors. The village served as an ideal setting for Gauthier and his friend Guy Laliberte to hold their art and performance festivals that eventually led to the birth of Cirque du Soleil.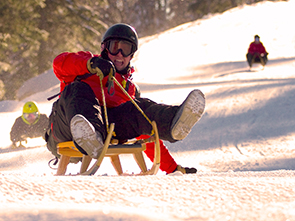 RODELING
The train shuttle is a perfect beginning to an outing never to be forgotten. My itinerary says take the shuttle to Le Massif and meet Stephanie Morneau at the top of the gondola for a 'rodeling' or 'descente en luge' experience. The train conductor said I will love it and will want to do it more than once. Stephanie welcomes me with a grin and we ascend the final few hundred metres on a snow cat. I am given a traditional wooden (Vermont–crafted) runner sled with inch-thick plastic, moulded to the runners for less resistance. I am also handed a helmet and ski goggles (must be worn). Our guide explains 'en Francais,' about the steering technique and potential hazards whilst Stephanie translates for me quietly as I am the only Anglophone in the group of roughly 20.
So, you get on this sled and you line up side by side and in rows like at the start of the 100m sprint. When they give the signal you push with your arms and legs just like an Olympic luger until you begin North America's longest sled ride at 7.5 km.
Soon after, you realise you should have paid more attention to the steering and braking demo as you careen down a winding snow course. Sitting astride the sled, I lean on my right butt cheek and dig in my left boot to take a sharp left, then regain my balance for a straightaway before leaning into a right turn that sends me into a snow bank. What a riot! This is so much fun. Stephanie leaves me in her snow-dust and we reconvene at a mid-way cabin. A quick 'chocolate chaud' and face de-icing happens here. When you dig in your boots, the snow gives you a school playground-like face wash, but once you get the hang of it in the second half of the journey, that sensation is greatly reduced. Travel as in-or-out of control as you can handle but be prepared for the second half of the ride, which is steeper and faster! The whole experience is as Canadian as it gets and once it's over, you will want to get on the lift and go again. I imagine how much fun it would be with the family or a group of friends. The whole experience takes about two hours and aside from the fantastic skiing, rodeling is a Le Massif de Charlevoix MUST DO! Check out some of the video experience on YouTube and our Facebook page.
THE FUTURE OF LE MASSIF
Already established is a sprawling 145-room, 5-pavillion contemporary rural-themed hotel and the train shuttle from the hotel along the Saint Lawrence to the chairlift, but there are even bigger plans coming.
Vision 2020 will see eight additional ski in-and-out condo buildings at the base, 122 units total, whose rooftops will mimic the cracked and broken ice shards of the Saint Lawrence. In keeping with the Le Massif philosophy to blend in with nature rather than offer a stark contrast to the environment, the wooden-sided village units will appear to be buried under huge sheets of ice. Ranging from studios to three-bedroom condos and including ground level amenities, each building will be completely separate allowing for easy pedestrian flow. Also, recently announced, similar to their resorts in the French Alps (featured in this issue), a Club Med will be coming to Le Massif with a projected 300 rooms. It will be the first Club Med in Canada.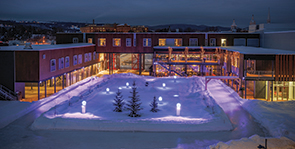 HOTEL LA FERME
The new condo units designed by ABCP architects in Quebec City will be built with local materials and involve local artisans. The same approach was used for Hôtel La Ferme. Katherine explains as she tours me around the hotel's farm-themed pavillions that Gauthier wanted to prevent the hotel from becoming "the elephant in the porcelain room." "By involving as many local farmers and artisans as possible, the hotel becomes part of the close-knit community rather than at odds with it." You can see the community involvement throughout the five pavillion units. Items like soap that is recycled by a Baie Ste. Paul soapmaker and pillows, rugs and linens crafted by a woman in the market, add to the local flavour of the hotel.
Until it burned down in 2007, the farm was the largest working wooden farm in Canada. The site was occupied for 80 years by the Little Franciscans of Mary, and when Gauthier purchased it in 2005 it was owned by the Filion family. Each pavillion represents a farm building that once stood there and features a decidedly different vibe, design and décor. It is this synergy of contemporary design with a nod to the rustic wooden farm elements that has garnered worldwide attention. This includes three prestigious awards from Conde Nast Traveller Europe where it made their lists of '154 Best New Hotels in the World,' 'Best New Family-Friendly Hotels' and 'Best New Hotels under $300.' In addition to 145 rooms and lofts, Hôtel La Ferme includes a railway station, a skating track, multifunctional venue, six meeting rooms, a spa, a gym, a café, a bar-lounge and an interactive restaurant experience.
Le Labours restaurant showcasing Charlevoix terroir products and cuisine du marché, is a foodie's dream. Either Chef Etienne or Chef Sylvain from Toulouse, France will prepare your meal right before your eyes. This unique approach allows patrons to interact with the chef, who's more than happy to explain the preparation process and the derivation of each element of the meal. I enjoyed L'agneau braise de Tommy avec ragout d'haricots. This is melt-in-your-mouth lamb served on a bed of garlic-scape-infused baked beans and zucchini. The lamb is reared on-site by local sheep farmer, Tommy and the rest of the produce is from the local market. In summer, most of the vegetables are yielded from the hotel's fields. I wash it all down with a strong blonde brew similar to a Belgian Pale Ale from Baie Ste. Paul's Microbrasserie Charlevoix. Called Flacatoune, which according to Chef Etienne means beer in the local vernacular, this 7% ale packs a slightly sour but fruity punch with a dry finish. I highly recommend it. For dessert, I enjoy 'Pudding Chomeur.' It is a highly sought-after Charlevoix favourite prepared by in-house Parisian pastry chef, Vincent Solange. Chomeur is a mix of maple syrup, brown sugar and flour that is baked on top and soaked within a brioche. One of the sweetest desserts I have ever tasted, pudding chomeur is another of the many highlights of this visit.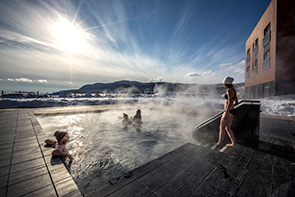 SPA DU VERGER
Complete your ski day with a relaxing visit to the hotel's Spa du Verger. Here you can experience le circuit, which is both soothing and invigorating. Immerse yourself into their massive 103-degree hot pool and take in the pastoral scenery of the valley, then plunge into a 45-degree Celsius cooling tank polar-bear-dip style, then dash inside to your waiting robe and tranquility room where you think about nothing or ponder the gnarly powder you ripped through earlier. Then, hydrate before starting the second phase of le circuit with a visit to the eucalyptus steam room. Once warmed inside and out, subject your skin to an ice cube scrub, return to the tranquility room, then sauna, then ice scrub and repeat as often as you so desire. Le circuit gets the blood circulating. Combine with a massage and you will be ready for those first tracks the next morning!
The following evening, after a spectacular day of skiing at Le Massif, I share a satisfying après meal at Le Bercail with Katherine. A ski trip to Quebec would not be complete without an après feast of charcuterie and local cheeses. This time I enjoy Microbrasserie Charlevoix's Dominus Vobiscum Double. A strong (8%) trappist style ale, it complemented the dish with its spicy dark fruity overtones, as good if not better than a Chimay. I can't get enough of the chomeur so I opt for the 'Pizza Chomeur' this time. It is the same idea as the pudding, except pizza dough is used instead. It goes down sickly sweet. As sweet as my visit to Le Massif!
I can't wait to return to the Charlevoix to experience the more challenging side of the mountain and for more of "the food, the food, the food!"