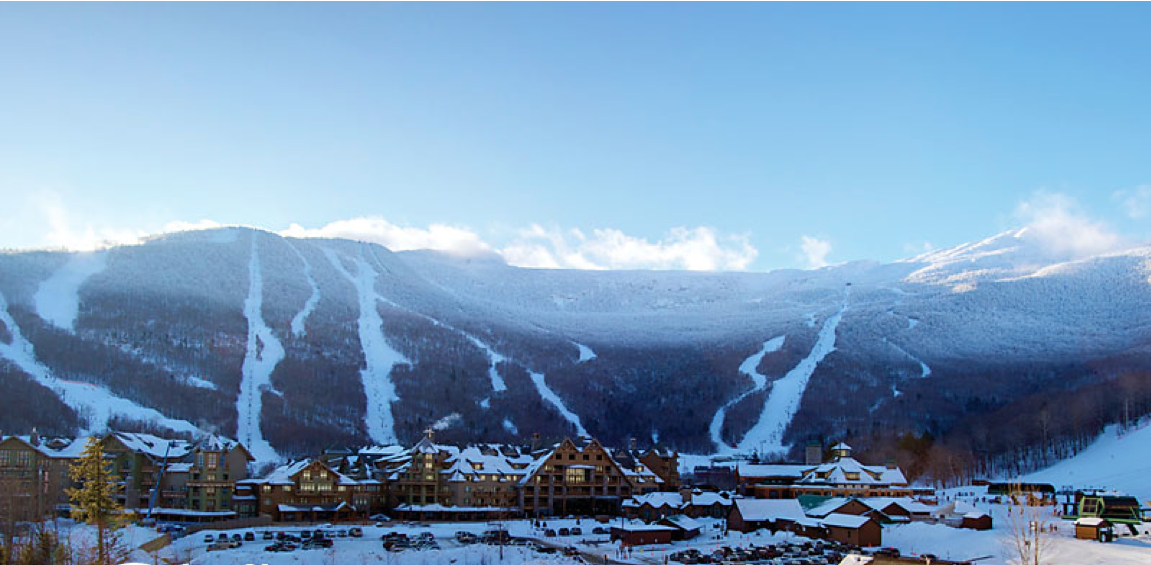 Having visited the breathtakingly beautiful Green Mountain State on family vacations and a few Guy-getaways to Killington, I think I have a grasp on all that Vermont has to offer. It turns out this can't be farther from the truth. As my precious days there unfold, I discover there is so much more to the billboard-free land of covered bridges, winding rivers and picturesque mountain villages. Oh yes, there is also magnificent skiing, all just a short flight away.

Porter Escapes
Waiting in the lounge for my flight to Burlington to be announced, I see strangers striking up conversations and others fiddling with various electronic devices. There is a sense of calm as flights are announced and passengers make their way to the gates. It's my first time flyingPorter Airlines and the experience is very civilised. I was so relaxed, I half expected an airport employee to come around offering foot massages – not that I needed one, but maybe after a few days on the slopes…
A half-hour into the flight I realise I haven't reclined my seat as there is ample leg room. Then no sooner am I stretching out comes the signal to prepare for landing and move all seats into their upright positions. I gaze out the window at the twinkling Christmas lights of the city of Burlington below and I cannot believe it is already time to land. The flight from Toronto, although Porter says takes 70 minutes, only takes 50 minutes this trip. There must have been a heck of a tail wind.
Vermont's Largest City
Combining a sophisticated college hipness with New England village charm, Burlington is Vermont's largest city with about 40,000 residents. It has ample eating and drinking options as well as anything else you might think you need, including a record shop. Its streets at night are bustling with shoppers and bar-hoppers especially in the Church Street marketplace, an open-air brick-paved street mall with historic buildings, buskers and hundreds of shops, restaurants and cafes. All of this, just a short drive away from several of Vermont's top ski resorts.
This visit takes me to some of the state's most well-known ski destinations including the "Beast of the East," Killington Resort, aptly nicknamed because it boasts the most skiable terrain in Eastern North America with 92 miles of trails if you include Pico, its sister mountain.
Killington is a scenic hour and a half drive south from Burlington airport either down Highway 89 or along the more scenic Route 7, meandering through quaint New England villages like Middlebury, Brandon, Pittford and Shelburne. If you have the time, the Shelburne Museum is worth a visit to experience Vermont vernacular paintings, folk art, textiles, toys and more. There's even a covered bridge.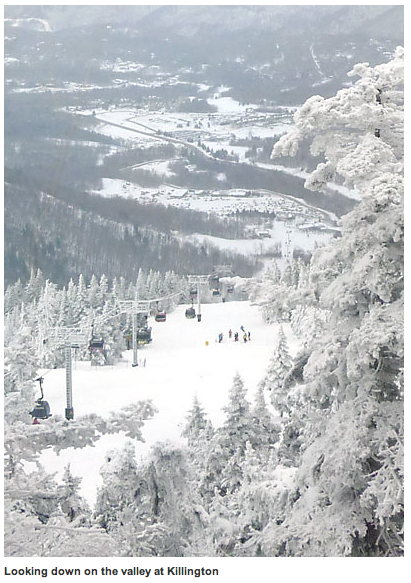 The Beast of the East: Killington, VT
Pulling up to the Killington Grand Hotel and eyeing the breathtaking Snowdon Peak – which at 3592 feet is only the fourth highest of Killington's six mountain peaks – will give any snow carver, goosebumps. Powder hounds will want to shoulder their skis across the pedestrian bridge to the Snowshed lift while taking in the spectacular snow-capped mountain view. The Killington Peak summit is 4241 feet with an impressive vertical drop of 3050 feet, second highest to Whiteface in Lake Placid, NY (in the East).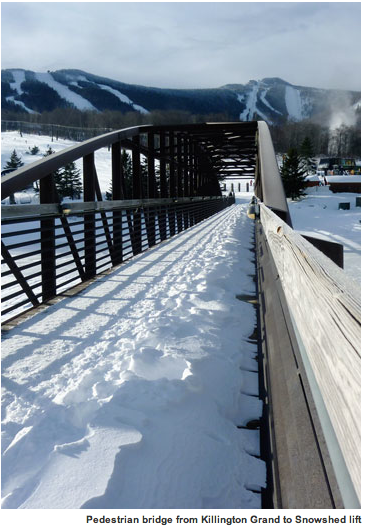 The resort itself is monstrous with 1509 skiable acres and new this year, an extra 500 acres of glade skiing. Rob Megnin, journeyman ski instructor and Killington Resort's director of marketing and sales confidently declares, "I would put it up against any resort including those in the West. We've opened up the whole mountain this year. Our team has spent the off-season clearing 500 acres of freshly skiable wooded terrain, and for a different experience a shuttle bus away from the Grand is Pico Mountain."
Pico is a great place to ski when Killington gets crowded, although their "crowded" does not compare to Ontario's.
Killington's terrain is hugely diverse, from extreme steeps and moguls to wide relaxed groomers. The mountain gets an average of 250 inches of natural snow per year. According to marketing manager Michael Joseph, "This year we were skiing on the 25th of October and expect to be skiing into June."
Of all the peaks, Bear Mountain has the most challenging terrain and coolest vibe, while Snowden and Ramshead are great for families and taking advantage of the learn to ski or ride program – awarded "Best Learn To Program" by Ski Area Management magazine. Ramsheadhas fast and wide intermediate runs perfect for schussing or carving. Timberline terrain park is fun small jumps and jibs for park newbies, and the Squeeze Play intermediate glades where trees are wider apart and the forest echoes with whoops and yelps.
At Killington Peak if you are looking to log a ton of fast medium-length runs, head to the North Ridge Triple Chair and ski Rime with some natural medium-sized moguls or Reason, where you can go as fast or controlled as you want. It's sheer Blue run bliss!! And for an exhilarating Black to Blue run experience try Needles Eye at Skye Peak.
One of the hottest destinations at Killington this year is the highly anticipated brand new Peak Lodge. Located at the top of the cow manure-powered K1 Gondola, the highest summit lodge in Vermont boasts panoramic views and an upscale menu. The giant picture-windows frame majestic views of the Green Mountains. On a clear day you can see Mt. Mansfield in Stowe, Vermont's highest peak.
Killington is regarded as Vermont's busiest resort due to its proximity to major cities such as Boston and New York. For this reason, the bars, clubs and restaurants on the five-mile long access road are abundant and lively. Enjoy their mouthwatering New York Strip Peppercorn steak (steaks are their specialty) and the jaw-dropping salad bar selection at The Wobbly Barn, then people-watch or dance the night away in the club-like atmosphere upstairs. The Wobbly is turning 50 this year. Take in quality Top 40/Dance bands on three floors at the Pickle Barrel (not to be confused with the restaurant chain here) or head over to JAX for a more intimate live music setting, arcade games or a laundry emergency. Outback Pizza is also excellent for live music, and pizza of course.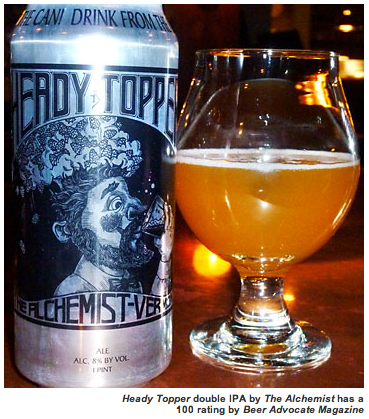 Beer, Bourbon and Bridges
Watching the 'Beast in the East' fade away through the rear window of an AWD vehicle (strongly advised in Vermont), Sarah Wojcik, Ski Vermont's director of public affairs explains that there is much more to the state than moguls and maple syrup. We drive beside winding rivers, past rustic barns and covered bridges as Sarah explains about the state's 30 micro-breweries, local bourbons and cheese-making prowess. On this trip I try a few of the award-winning hoppier IPAs byLong Trail, Fiddlehead and Otter Creek and none of them disappoint. There are dozens, including Heady Topper by The Alchemist in Waterbury, recently chosen best beer in the world by Beer Advocate Magazine. It's apparently a hot commodity in Vermont – hard to find because The Alchemist can't keep up with the demand for this double IPA.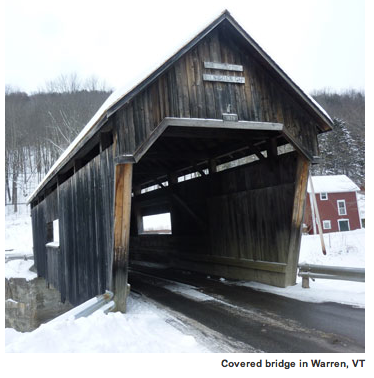 The river flows north in the Mad River Valley
About an hour north of Killington and just 45 minutes from Burlington, the picture-perfect town of Warren is set on the banks of the Mad River, so called because it flows north, according to Eric Friedman, marketing director at Mad River Glen ski area. With a church on the hill overlooking a covered bridge and the valley, Warren's quintessentially Vermont beauty inspires the region's abundant community of artists.
Visit the Warren Store for a quick bite. Set in a century-old farmhouse with creaking plank floors and a central hotstove, the store has delicious and healthy farm to table sandwiches prepared on their freshly baked breads.
Like Warren, equidistant from Sugarbush (about 10 minutes) is the town of Waitsfield. Here you will find a movie house, restaurants and no fewer than six bakeries. Stop by Lareau Farm, the original home of Vermont's famous American Flatbread pizza. It is all natural and baked in a wood-fired earthen oven. They are only open Thursday to Sunday from 5pm-9:30pm, and they don't take reservations.
Once nicknamed Mascara Mountain, because it was a glamorous ski destination for New York models and socialites including Andy Warhol,Sugarbush Resort opened in 1958. Glen Ellen, beside it, opened 50 years ago in 1964 and amalgamated with Sugarbush in 1979. In 2001 it was renamed Mount Ellen at Sugarbush, which is comprised of three main peaks and three smaller peaks. Mount Ellen has their highest vertical drop, the second largest in Vermont at 2,600 feet, followed byLincoln Peak at 2,400' and Castlerock at 2,267 feet. Owned bySummit Ventures since 2001, whose majority owner is former Merril Lynch executive Win Smith, Sugarbush boasts 53 miles (85km) of trails and 18 lifts. Let's face it – you will not be bored skiing here.
At Sugarbush, you effectively have two ski experiences. At Lincoln Peak, overlooking a natural bowl of skiing deliciousness, the terrain offers something for everyone. To start, try Jester from top to bottom. It's a winding scenic Intermediate/Blue run that provides some perspective on the area as well as a lot of short turning opportunity. The trails are delightful with numerous lookouts and they all end up at the same chairlift, so experienced and inexperienced riders can hook up each time at the bottom. For experts only, Sugarbush marketing director, Candice White recommends the all-natural conditions atCastlerock Peak. Here you may run into chief recreational officer John Egan plummeting from a rock face and ripping up some pow. John has starred in dozens of Warren Miller ski films.
If things get busy on the Lincoln side or you are looking for a change of atmosphere, hop on the two-mile long Slide Brook Express Quadfrom North Lynx Peak and head over to Mount Ellen. Vermont's highest chairlift gives you access to 39 more trails spanning everything from steeps to wide-open groomers and beginner runs. Lines are shortest here and this is where many Mad River Valley locals enjoy skiing.
The original Sugarbush side is based at Lincoln Peak Village with its traditional Vermont architecture blending in with mountains. Here you will find two lodges and luxurious slopeside accommodations at Clay Brook Hotel & Residences with a spectacular scenic outdoor heated pool and hot tub, as well as Timbers restaurant with simple but delicious menu options. I recommended their classic egg sandwich with Vermont cheddar before hitting the slopes in the morning. And if Bourbon is your thing, try the extremely smooth Vermont Spirits' #14at Timbers after an out of this world moonlit Cat ski experience.
Sugarbush has a warm, welcoming family vibe and its proximity to two storybook villages make it an ideal getaway for families or for romance.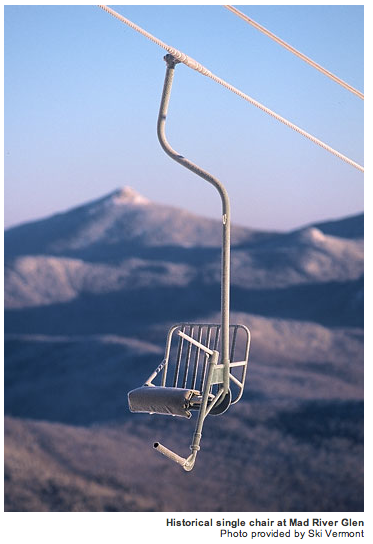 Mad River Glen, Ski It If You Can
If you are looking for something arguably more off piste, Mad River Glen ski area is just the ticket. Ripping it old style with all natural snow, their motto is "Mad River Glen, Ski It If You Can." You may have read this on one of their famous bumper stickers. They have been seen the world over. In the traditional cabin-style lodge there is a Mad wall featuring photos of Mad River Glen enthusiasts posing with the sticker. It was recently pictured in Afghanistan and on the International Space Station!
After 20 years skiing Mad River Glen, no one is more passionate or enthusiastic about the experience than their marketing director, Eric Friedman. Eric beams as he explains,"The narrow winding natural terrain combined with the only single chair lift south of Alaska and most of its original outbuildings are reasons why Mad River is a heritage designated ski area. But mostly the recognition has come from the way the runs have been cut. All the trails meander and end at the same place. At Mad River the snow falls from the heavens and not the hoses. The mossy and grassy slopes are what make this possible. There is little to no grooming."
Boarders take note. Mad River is one of only three mountains in Vermont designated exclusively for skiers. Eric cuts effortlessly through the powder and natural moguls on several runs that chew me up and spit me out. He also points out a chalet with its own chairlift. Whose is it? The Rockefellers. A run is named after them.
Great vibe. Great runs. Great views. If you are up for a challenge, you must ski Mad River…if you can.
Waterbury – Vermont's Epicentre
Continuing up VT 100, Vermont's longest highway, which accesses almost every major ski resort in the state, we arrive in Waterbury in 25 minutes. This thriving community is somewhat of an epicentre being 25 minutes or less from Sugarbush, Mad River, Stowe and Burlington. I say thriving, because it is home to several major Vermont brands including: Ben & Jerry's, Cabot Cheese, Lake Champlain Chocolatesand Green Mountain Coffee Roasters.
Arguably, Vermont's most well-known brand, Green Mountain Coffee is the world's largest producer of fair trade coffee over the past three years. GMCR produces 64 million pounds of fair trade coffee annually and their purchase of Keurig in 2006 has them partnered withStarbucks, VanHoutte, Dunkin Donuts, Timothy's and Tim Hortons to name just a few. Their headquarters is a beautifully restored 1875 active Amtrak train station. Take a tour to learn all you ever want to know about the life of a coffee bean, Green Mountain Coffee's 34-year history, its commitment to the community and the communities that grow their coffee.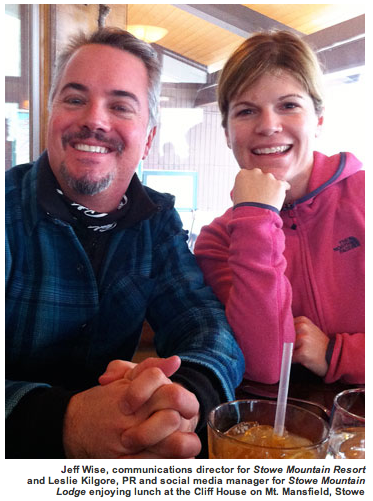 The Hills are Alive in Stowe
Just 10 minutes from Waterbury is the bustling ski village of Stowe. An area so beautiful it lured the Von Trapp family to settle there. They saw it as the closest thing to living in Austria. You can almost hear Maria yodelling as you drive past the alpine architecture of local Inns and shops.
If you say you are headed to Stowe, most people don't ask "where's that?" The name is synonymous with ski vacation. In 2008 the luxurious sprawling Stowe Mountain Lodge by Destination Hotels was established with a Vermont-Alpine look and feel at the base of Stowe Mountain Resort. The stunning resort pays respect to the Vermont traditions of utilizing local artisan foods and products and embracing the tranquility of nature. There is also a performing arts centre and games centre for the kids. Future plans include more commercial business, condos and a massive skating rink.
The lodge is dog-friendly and of course people friendly. Upon our arrival at Stowe Mountain Lodge, PR and social media manager, Leslie Kilgore whisks out our press group to the scenic patio to partake in a lantern lighting ceremony. We get to help light 26 lanterns (representing all the nationalities of the winter season staff) and watch them take flight over Mt. Mansfield. This is a spectacular introduction to the thoughtful care and approach at Stowe. They even had the Canadian flag flying out front!
Over breakfast in the farm to table-inspired Solstice Restaurant, Jeff Wise, marketing director for Stowe Mountain Resort beams enthusiastically with his love for the area. He explains (as I enjoy the delicious Lobster Benny) that as a boarder he feels Stowe is the East's "best mountain for snowboarders because of the grade." After skiing numerous runs, I agree there are little to no flats.
Over the course of our week in Vermont, the conditions were fantastic at all resorts, but the slightly lighter snow at Stowe was wondrous perfection. The magnificent horseshoe-shaped panorama of Mount Mansfield (Vermont's highest) and Spruce Peak allow for a full sun ski day. Catch the morning light on the "front four" and work your way right for mid-day sun at the gondola, then bask in sunshine at Spruce Peak to finish off the day. Make sure you wear sunblock.
There is enough varied terrain to keep everyone happy. From epic expert runs like the renowned "front four" Goat, National, Liftline andStarr, to groomed cruisers like the exhilarating Perry Merrill, super-wide Gondolier and Sunrise. Try Ridgeview if you love to make short turns. Take the Gulch run for natural medium moguls and if glades are your thing, give Nosedive a try.
People were skiing and cutting trails at Stowe in the early 1900s but the first lift was installed in 1946. The area has entertained the world ever since.
The main town is about six miles from the mountain resort and there are more than 70 shops and numerous restaurants to explore. A visit to the Cold Hollow Cider Mill is a must to sample cider donuts and fresh cider right out of the vat. This quintessential Vermont store also has every Vermont product imaginable from Maple syrup to artisanal salsa and woven slippers.
Accommodations at Stowe Mountain Lodge are lavish and some visitors stay there because they claim the sheets are incredibly soft. They are. And you can buy them at the Lodge store. A picturesque outdoor heated pool and hot tubs await you after a full ski day. A relaxing foot and calf massage at the Health and Wellness spa is also highly recommended.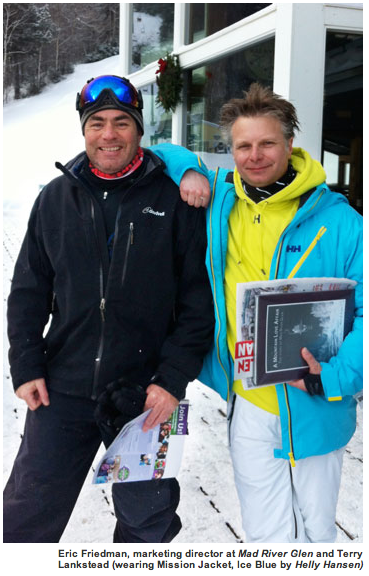 As we head out of Stowe for the airport, Ski Vermont's Sarah Wojcik springs one last surprise on the group. She takes us to the BluebirdTavern in Burlington where the manager has set aside a few cans ofThe Alchemist's Vermont famous Heady Topper. After some oysters and a day of skiing at Stowe, it was certainly heady and bursting with apricot flavour. Is it the best beer in the world? You will have to go and find out. TJ