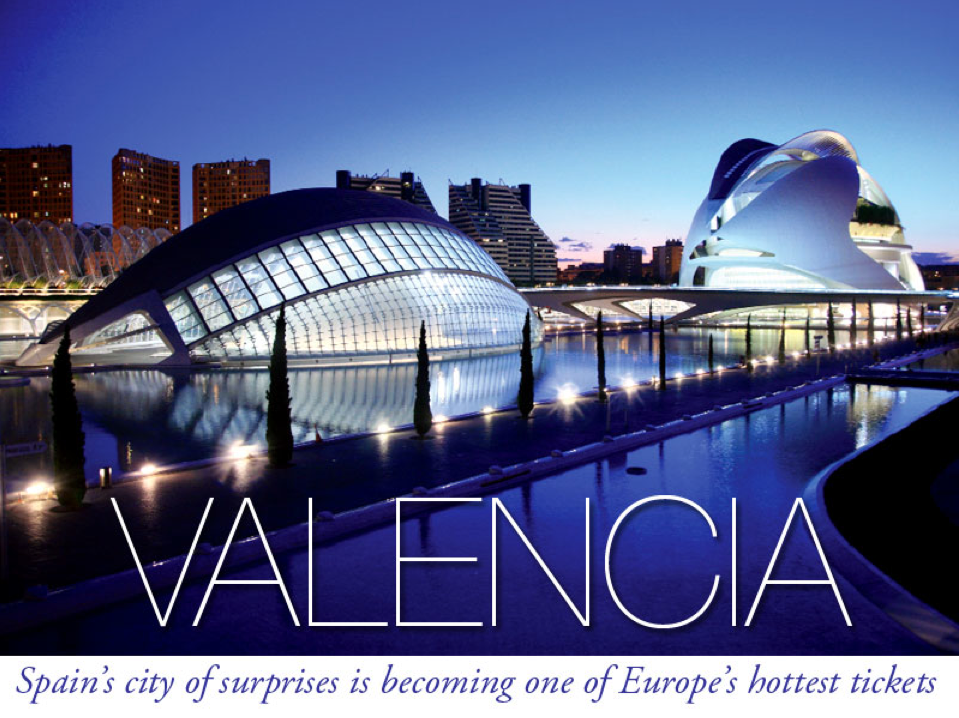 story and photography Terry Lankstead
As our puddle jumper from Paris dropped below the clouds, my north facing window seat afforded me a breathtaking view of the mountains of the Valencia region, lush greenery and palm trees below. A convenient twenty-minute shuttle outside of Valencia city centre, Manises airport is quite small with only one runway, but it handles connections to more than 15 European countries.
When I stepped off the plane I expected to breathe in that warm moist air of the sunny south, but the skies were grey and the city was receiving unusually cool temperatures for late September. Located centrally on Spain's east coast, average temperature here for September is 22˚ Celsius. Just a 1.5-hour flight from Paris or a relaxing 1.5-hour side trip from Madrid on the Renfe AVE (Alta Velocidad Española) high-speed train (travelling at 300 km/h), Valencia is easy to get to and it will not disappoint.
On the airport shuttle, the first striking impression of Valencia came in the form of a diverse range of apartment buildings all adorned with green and white awnings-a sure sign that things heat up here. Next, railway lines, bridges and open green spaces appeared as our bus weaved its way closer to the city centre and many of its stunning landmarks.
Garden of the Turia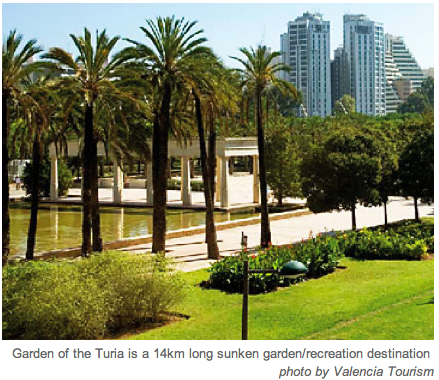 Valencia has undergone a major transformation over the past few decades with a keen eye towards place-making in every sense of the word. The city's strategy was partly born out of necessity. In 1957, the Turia River, which coursed through the middle of the city en route to the Mediterranean, flooded Valencia causing great devastation and a large number of deaths. To avoid future flooding, the river was rerouted around both sides of the city. A dramatic transformation of the original riverbed commenced in 1982. The goal was to convert the dried up river into a sunken garden for cyclists, pedestrians and other athletic pursuits. When financially possible, the city would develop in sections between bridges. The result is the magnificent Garden of the Turia, a place where people can explore pathways, playgrounds, ponds, cafés, soccer pitches, athletic facilities and of course, stunning gardens. The bike path is the best way to explore the Turia and the city has its own Valenbisi service with pay-as-you-go bike rental stands set up in strategic areas. There are also numerous bike rental companies. Because the city is so flat, exploring by bicycle makes much sense. Just make sure you always lock it up.
City of Arts and Sciences
The eastern end of the gorgeous 14km-long Turia garden park houses some of Valencia's most identifiable landmarks. The City of Arts and Sciences, designed by world-renowned Valencian architect, Santiago Calatrava and Madrid's Felix Candela, is a 2km long (approx.) archictectural masterpiece featuring an opera house, science centre, reflecting pool, aquarium and exhibition hall. The latter plays host to events like ATP Tennis and the MTV Europe music awards.
Rising 14 stories, the Calatrava-designed Palau de les Arts Reina Sofia is the tallest opera house in the world and resembles a giant warrior helmet. This is one of the most visually stimulating architectural features of this Spanish port.
Close to home, in addition to other notable structures the world over, Calatrava also designed the Allen Lambert Galleria in Brookfield Place, Toronto (see our GL facebook page) as well as the Mimico (pedestrian) Bridge over the Humber River.
Europe's 5th Largest Port
Valencia, pronounced Ba-len-the-a in Valencian Spanish (which is very similar to Catalan) is the largest container port on the Mediterranean Sea and the fifth largest in Europe. Perfectly situated in the centre of Spain's Mediterranean coast, the port is so busy that ships have to line up offshore to load and unload. The city's main exports are oranges, rice and primarily the Ford Fiesta and C-Max. The local Ford plant produces close to 2000 units per week. The port has also seen its cruiseship traffic grow from 12 ships a year in the early nineties to in excess of 200 annual visits in 2011—another testament to the place-making endeavours.
A tiny bit of History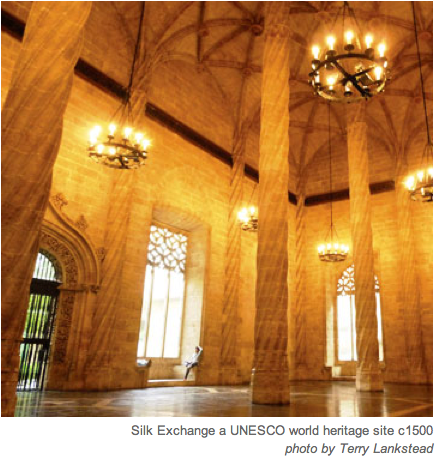 Valencia was originally settled by the Romans in 138 BC. who erected their walled city between the fork of the river Turia with easy access to the sea. Although it changed hands several times, the next major conquerors were the Moors in 714 AD, followed by the Christians in the 13th century. The 15th century was the Valencian Golden Age of arts, education, culture and economic expansion, led by textile production and banking.
The Silk Exchange (Llotja de la Seda) erected in the early 1500s was integral for attracting merchants from all over Europe. This UNESCO World Heritage Site is a magnificent Valencian Gothic style building, and well worth a visit. Valencia's prosperity in the 15th and 16th century was replaced by an economic crisis until Valencia's road to recovery began in the mid 19th century under the reign of Isabella II, with infrastucture improvements like cobblestone roads (still impressive today), municipal water, gas and gas lighting. The population tripled from a little over 200,000 in 1900 to close to 750,000 in 2000, and today Valencia remains as Spain's third most populated city.
Sightseeing
Parc Natural de l'Albufera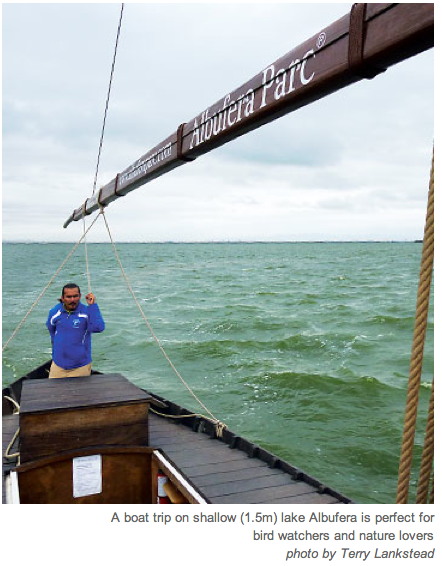 The Albufera, a freshwater lagoon and estuary which lies about 11 km (7 mi) south of the city, is one of the largest lakes in Spain. It is a popular eel-fishing locale but only local fishermen are allowed to fish the shallow (1.5m) waters. Each year a lottery is held to determine where each eeler is allowed to cast his nets. They also fish for bass and the recently introduced American blue crab. It forms the main portion of the Parc Natural de l'Albufera (Albufera Nature Reserve). The Parc contains a large variety of rare birds like the purple heron, which we spotted on our delightful up-close-and-personal Albufera boat excursion. On the traditional Albufera boat trip you will also see the rice fields, which act as natural protection for many rare birds and yield the area's famous Valencian rice—a unique somewhat round rice that is popularly used in paella dishes.
Buy some rice in the local village, El Parmar the local village, or enjoy Paella or La Espardenya (containing eels from the lake). Paella Valenciana is the regional dish of Valencia that originated from the Albufera and it is widely available in the city's restaurants. Although Valencia is right by the sea, the traditional recipe surprisingly does not contain seafood. Instead, Valencian paella consists of white rice, green vegetables, meat (usually rabbit), beans and seasoning. I enjoyed mine at LaLola, an ultra-hip restaurant (the owner Jesus is a local DJ legend and the restaurant is a Flamenco dancing hot spot) in Valencia's historical district.
Historical Centre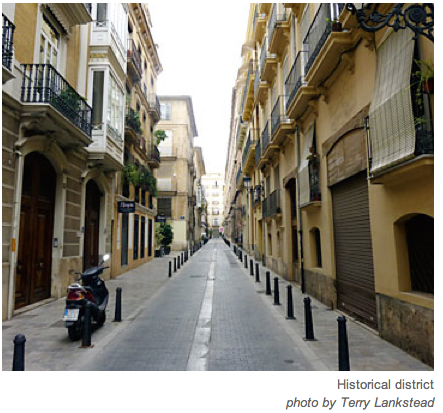 Don't let a spot of rain spoil your day in Valencia. It brings out the patina on all the gorgeous stone buildings and footpaths in Valencia's historic district. Here you will find Europe's largest market, the Mercado Central, with everything you would expect from a world-class market from incredible seafood, cheese and produce stalls to paprika by the bag and an opera performance perhaps. There is always something going on at the central market and it is a great place to refresh after exploring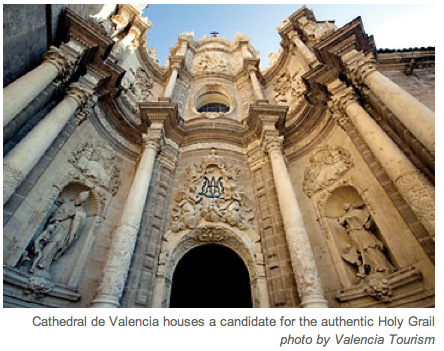 the numerous historical sites. In fact, it is just across the street from the Silk Exchange mentioned earlier and not far from the Plaza de la Virgen, a spectacular stone square that hosts heritage edifices like the 13th Century Valencia Cathedral (which also house the Holy Grail!) and the Basilica of the Virgin. You will also find a few outdoor cafés and Valenbensi bike rentals. Every Thursday outside the Portal of the Apostles of the Valencia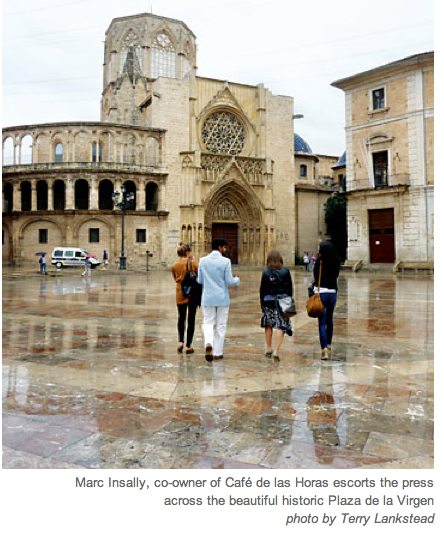 Cathedral, you can witness the tradition of the Water Court meeting. The Tribunal de Las Aguas is a democratic process originally introduced by Moorish farmers to regulate the irrigation of farmer's fields. One of Europe's oldest democratic institutions, this Water Court of elected judges continues to this day.
The Beaches
Valencia's beaches are not too far from the city centre. I was unable to visit them but Marc Insally, a co-owner of local artsy hotspot Café de las Horas and a man of passion when it comes to all things Valencia, made a few recommendations. Marc explains that "Malvarosa Beach is the closest, pretty much in the city. It's lined with restaurants and is handy for a few hours of sunbathing or beach volleyball, but it's not the best for swimming. I do recommend El Saler Beach: It's out of town but you can get the bus every half hour during the summer from the Gran Via Germanias and it takes about an hour to get to the sand itself. The beach is an empty long stretch of quite well-maintained, clean sand and water (no shade though, so if you burn do take an umbrella)."
Events
The biggest annual event in Valencia is referred to as Las Fallas. This Valencian celebration takes place from the 1st to the 15th of March. It is a celebration of St. Joseph, the Holy Patron of carpenters. Community groups burn satiric papier maché effigies of iconic figures from the realm of politics, history and celebrity. Historically families would spring clean, throwing out leftover wood and candles no longer needed after the winter and they would bring all these items to a massive bonfire. These days it's a major celebration where everyone gathers in the Town Hall Square to enjoy a fireworks display choreographed to music.
Valencia also hosts the European Grand Prix of Formula One auto racing, the Valencia Open 500 tennis tournament, and it is home to Valencia CF, one of the big soccer clubs in La Liga (outside of Barcelona and Real Madrid of course).
Dining and Drinking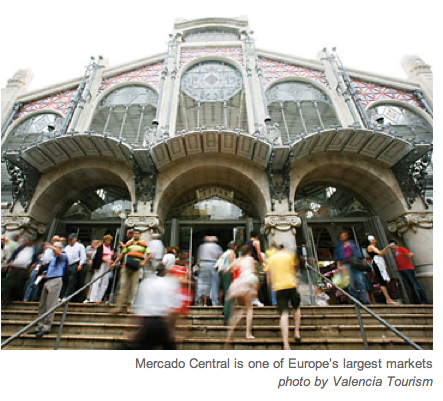 If you are looking for somewhere to soak up the Valencian atmosphere, the restaurant and nightlife options are plentiful. Meeting Marc Insally and sampling the Agua de Valencia at his neo-Baroque style Café de la Horas was a personal highlight on my visit. The cocktail blends cava (Spanish sparkling wine) with orange juice, vodka and gin. It goes down easy and is lip-smackingly delicious. The café itself is colourfully described by Marc as "a classic literary café,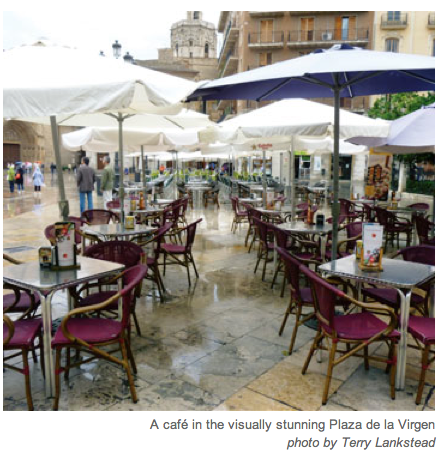 Parisian café and tea room serving English and American cocktails, all in a flamboyant neo-Baroque motif." It has a cool cosmopolitan feel, a place where local artists gather just to hang out or take part in various theme nights. If you are looking for that "wow-that's-so-cool" factor, you must drop in and say hola to Marc.
In the trendy port area, visit Casa Montaña for a wine tasting and gastronomical journey. Opened in 1836, it remains a meeting place for good conversation and discerning taste. This is a perfect setting to sample numerous tasty cold and warm tapas dishes. Derived from the Spanish word tapar, meaning to cover, tapas is hugely popular in bars and restaurants all over Spain. Although some consider tapas as an appetizer, at Casa Montana it is a several course meal experience. Delightful combined with wine and artisanal cheeses, try the cod croquettes, grilled sardines, grilled squid and fried anchovies. The Spanish love their fish. They also love their Iberian ham, and here it is melt-in-your-mouth delicious. Salty with very little fat, Iberian ham is meatier and less chewy than prosciutto, but they are similar.
Before boarding the train to Madrid, I lament not experiencing Valencia under warmer and less damp circumstances, but that just gives me one more reason to return. Rain or shine Valencia offers a world of surprises to explore.
Terry Lankstead visited Valencia, Spain on a sponsored press trip, compliments of the Tourist Office of Spain in Canada and Turismo Valencia. TJ
Restaurants with unique atmosphere, character and
authentic Spanish cuisine.
alma del temple at the Caro Hotel (accented by Roman ruins)
LaLola (Flamenco dancing at night)
Casa Montaña (Tapas, wine and Iberian ham)
Café de la Horas (for cool atmosphere and Agua de Valencia)
Places to stay
If you are on a budget try the fairly central Expo Hotel. Their excellent buffet breakfast includes Horchata—a favourite Spanish milky drink that includes ground tiger nuts. See our GL facebook page for a must-try recipe.
Caro Hotel is a romantic ultra-modern boutique hotel built amongst Roman ruins in the heart of the historical district.
For more info please visit Spain.