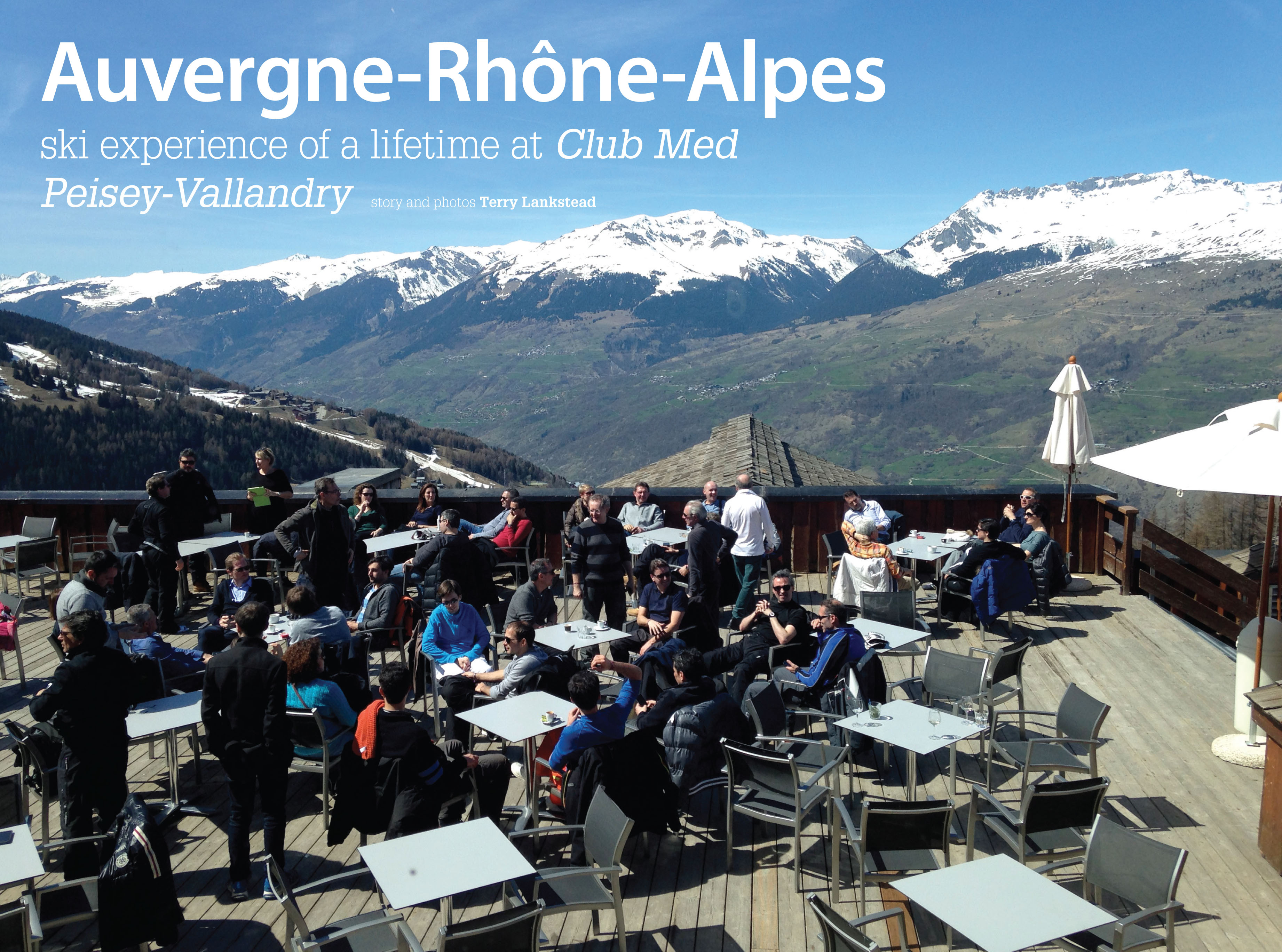 What is your dream ski destination? If you ask an Ontario skier, more than likely the response is either the Rockies, or the Alps. Of course, the East offers fantastic mountain experiences but the slopes of Europe and the West, conjure up the stuff of alpine dreams.
With this in mind, having the chance to experience spring skiing in the southern French Alps, and my first-ever stay at Club Med, is a steep and deep dream come true.
Although it is recognized as the second largest ski domain in the world, behind the renowned, Three Valleys – also in the French Alps – I had never heard of Paradiski in the Tarentaise Valley. But after spending three days exploring the monstrous terrain of the combined three resorts, Peisey-Vallandry, Les Arcs and La Plagne, this destination can only be described as an epic ski experience.
Getting there 
Our journey begins with an Air Canada flight to Geneva (now Lyon is also an option) from Toronto Pearson via a brief stopover in Montreal. To my excitement my name is called for an upgrade and priority boarding. So, while economy passengers struggle with the overhead bins, I get to be that annoying person sipping champagne, while attempting to figure out all the seat settings in my own personal flight pod.
The seats are armed with every feature imaginable, including multi-faceted lumbar support and numerous leg and headrest settings. The best part is being able to lay flat and enjoy quality zzz's. This is as stress-free as flying can be. Then come the hot towels, followed by a selection of charcuterie and apropos French cheeses. All of this pampering that includes a stop in the Maple Leaf Lounge – for complimentary everything – in Montreal, contributes to the excitement that the French Alps are not far away.
In Geneva, an awaiting shuttle, included in the Club Med ski package, takes us on a two-and a-half-hour journey through picturesque French villages. The most impressive of these towns is Annecy, known as little Venice for its abundance of canals. Dating back to 3000 BC, the town boasts a Medieval castle and welcomes 1.5 million visitors a year. They are drawn to the idyllic mountainous setting of the slender Lac Annecy, which winds its way 14 km past a scattering of quaint alpine villages. Para-gliders are riding the mountain thermals above, and sailboats are harnessing the wind below. It is a spectacular sight, but if you're the driver, keep your eyes glued to the road, as the sharp bends will rival the F1 course at Monaco. This area is also known for its 13 km scenic cycling path along the west side of the lake.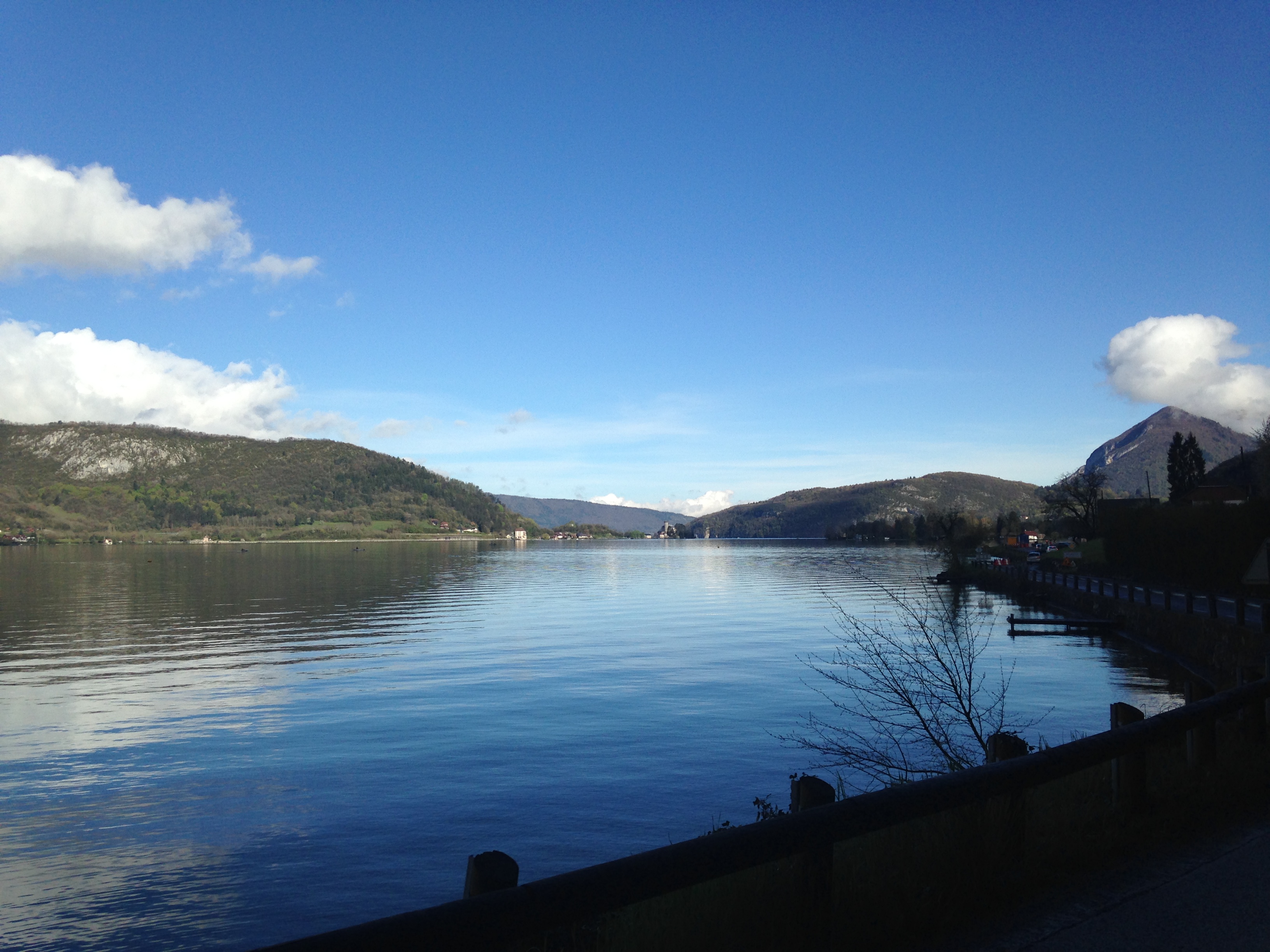 The Alps
As we edge closer to our destination, the tree-covered mountains resemble sponge dabs of dark and light green, interrupted by white flowering apple trees, and farmsteads that dot the landscape. The Alps rise sharper than the Canadian Rockies and dwellings abound here, unlike in Western Canada's unfettered wilderness. The Alps span 1,200 km from the Mediterranean to the Danube with 24 peaks upwards of 4,000 metres. The Highest is Mont Blanc at 4,800 m, towering in the Vanoise National Park and dominating the view from most runs at Paradiski. 
Now in the heart of the Tarentaise Valley within the park, we ascend a sharply winding road with no less than 20 hairpin switchbacks, and it is important on this final approach, to keep your eyes on the horizon or you may revisit that ham and brie baguette you had at the airport. This is the stuff of a James Bond car chase, as it seems like our van could topple over the edge at any turn. I marvel at the possibility there could be a huge resort at the end of this journey. But a few minutes later there it is, amongst the larch and spruce, settled in at 1,600 metres (5,250 feet), our final destination, Club Med Peisey-Vallandry.
Upon arrival, we are welcomed by spiritous and colourful G.O.s, short for Gentils Organisateurs (Genteel Organizers) decked out in shiny robin's-egg blue down jackets – most of them unzipped. It's a warm spring day in the Alps, bright yellow daffodils and forsythia are in full bloom with (to my dismay) no traces of snow at the actual resort. But I step around the corner and a breathtaking range of snow-capped peaks reaffirms there is more skiing to be had.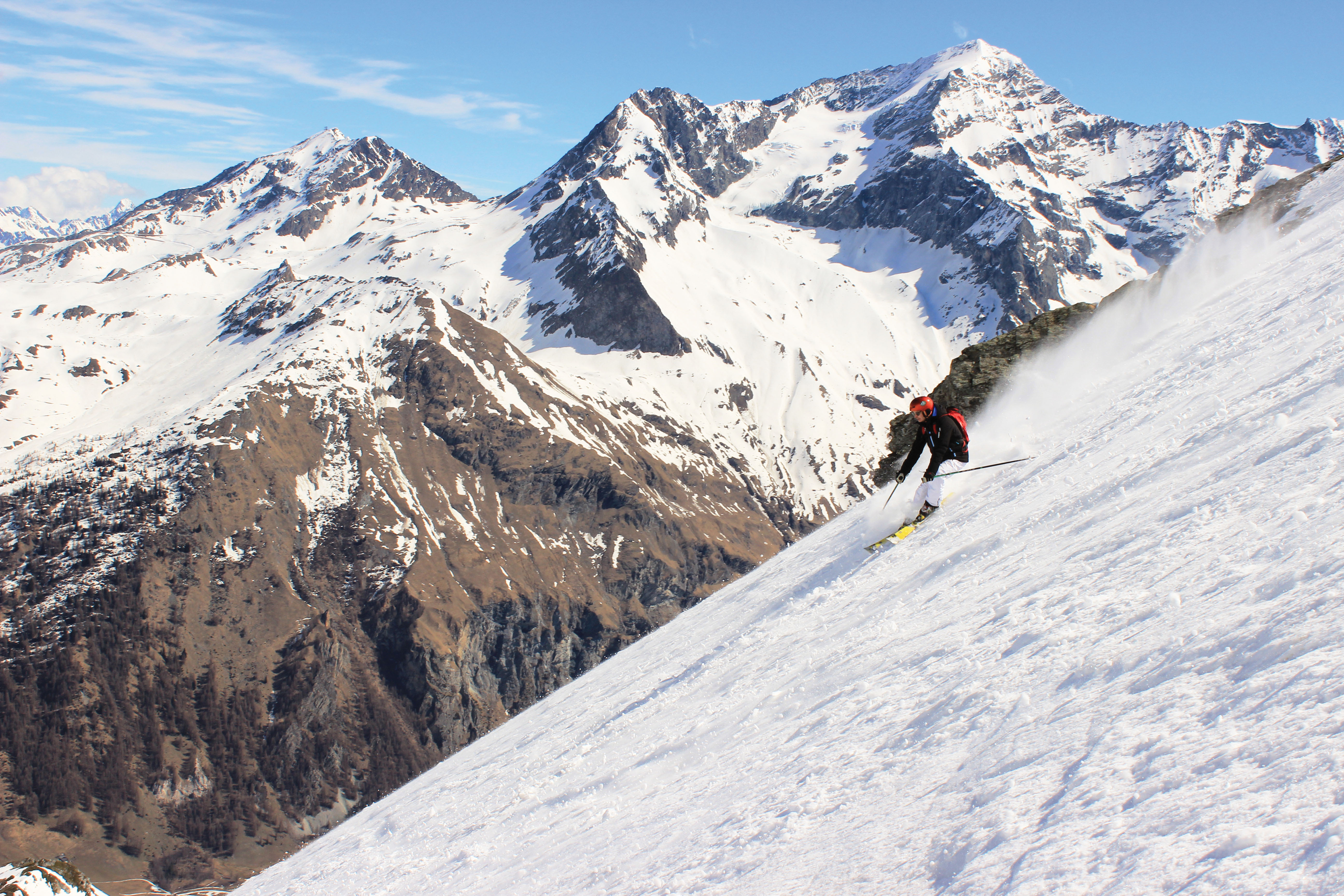 ON AND OFF PISTE
A typical ski day at Club Med begins leisurely around 8 a.m. with a lavish breakfast buffet in the main dining room. Here we fuel up with European fare, including crepes, perfectly scrambled as well as individually pan-fried eggs, fresh baked croissants, fruit, local artisanal breads, cheeses and mostly any item imaginable. Combined with a few double espressos, there is no better way to ready for an alpine adventure.
Fully sated, we grab our gear from the locker area, and ascend a ramp leading to the base lift. This seemingly normal routine is carried off with great pomp and circumstance at Club Med. I feel like a pro athlete about to walk out to the stadium, as the ramp is flanked by G.O.s beaming with enthusiasm. An 'Old-World' French vibe is very much at play here, with gentleman G.O.'s helping moms and children with their skis on the left side, and lady G.O.'s providing hugs and air kisses to dads on the right. It's a playful way to get pumped for the day.
Once outside, I'm greeted with more G.O.s handing out mini flutes of olive liquid. "Quest ce que c'est?" I ask, exploiting the limit of my grade 13 French. "It is Génépi, a local liqueur," explains the G.O. in a beautiful French accent. It's is derived from the flowers of artemisia that grace the mountains of the Savoy region.
Riding the first chairlift, birdsong is echoing across the wooded slopes. I am feeling a few butterflies mixed in with the espresso and Génépi mostly because I've been recruited into the expert skier group (yikes!).
Yes, included with your Club Med stay is 4-5 hours per day with a mountain guide, whom provides both level-appropriate lessons and in-depth knowledge of Paradiski's epic terrain. Our guide is Francois and he explains in French that combined with altitudes ranging from 1,250 to 3,250 metres Peisey-Vallandry, Les Arcs and La Plagne cover more than 425 kilometres with 246 pistes, but I use the term 'pistes' here loosely, as it seems like you can pretty much ski anywhere. Peisey has defined tree-lined pistes but mostly everywhere else is a giant white playground.
On day one, Francois assesses our abilities and talks about leaning into 'zee' slope and jump-turning on 'zee' steeps. He advises we tighten our bindings up one Din setting to avoid a runaway ski, and he greatly advises us with deadpan humour and broken English, "it eez best not to fall, up in zee alpine." This is met with sideways glances and nervous laughter, mostly from me. We move on to Les Arcs, which is comprised of four high-altitude villages, guaranteeing quality snow throughout the spring season. This area has epic views of Mont Blanc, and enough terrain to challenge skiers of all levels.
I forego the Kronenbourg at lunch because I fear Francois is going to be tougher on us after lunch. He takes us back to Les Arcs, and over to Aiguile Rouge (the Red Needle), its highest peak (3,227m). It seems a drop-in from anywhere will get you down to a lift.
The next day, Francois takes us traversing off-piste at 3,200 metres to Bellecote glacier at La Plagne, a colossal resort connected by the world's largest aerial tram, the Vanoise Express. La Plagne, comprising over 200 kms of trails and no less than 11 villages, is known for its extensive intermediate runs, but this is not the case where we are headed. This is the highlight of our ski tour, although at first it has me on edge, I am truly in uncharted waters and feel a little out of my depth. Before tackling the 40-degree vertical of the Couloir des Canadiens (a chute or passage first skied by some Canadian soldiers) Francois speaks gravely in French, and Ottawa Life's Karen Temple, translates. She explains, only moving her lips, "ummm, apparently a skier died just over near that rock last week, and also we should be very cautious because in some places the snow could give way to a deep crevasse from which there is little chance of escape." At that point, I decided I would follow behind most of the others.
As it turns out, the traverse is the scariest part and once I get used to the rhythm of the jump turns, I'm miraculously keeping it together with the group. Francois explains if you find yourself falling helplessly try to manouvre your head into an uphill position rather than sliding head first (good advice).
Soon after, my ski catches on what turns out to be a treetop (that's how deep the snow is). My ski releases and I find myself sliding several metres on my back head first, but manage to turn uphill as per Francois' advice. The final descent ends with some hiking along a mountain stream and through the woods to a waiting shuttle bus back to Peisey.
Paradiski is serviced by a staggering 171 lifts, including 15 varied kinds of gondolas, from intimate four-seaters, to high-capacity cable cars and the groundbreaking (or ground-defying rather) Vanoise Express, which holds 200 passengers and transports skiers across the Tarentaise Valley from Peisey-Vallandry to La Plagne. I say groundbreaking, because when this double-decker cable-car – with two units operating independant of each other– opened in 2003, it enabled the creation of the second largest ski domain in the world, spanning 1,800 metres across the valley. This 5-8 minute journey, suspended 380 metres above the ground is well worth the trip for the spectacular views of the Savoie region, Paradiski and the Tarentaise Valley. It is a must-do when staying in the region.
After taking a final few runs and umpteen scene captures, we head back to the deck at Club Med to catch the remaining rays of the day while finally enjoying that Kronenbourg.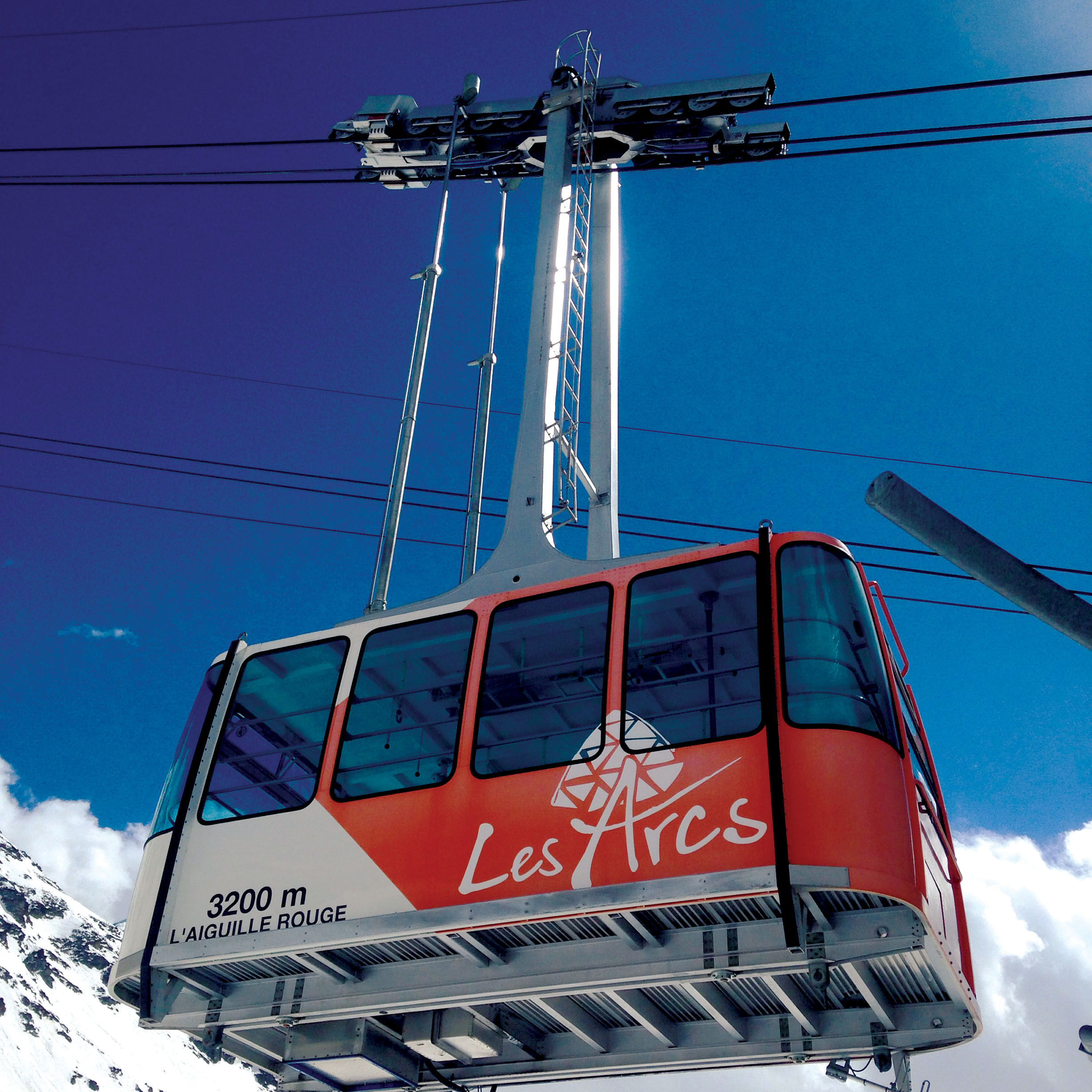 Life at Club Med Peisey-Vallandry
At the end of the day, families are reconnecting to compare experiences and we are enjoying Mojitos and some après apps including meats, local cheeses (there are at least four) and breads. Children are running around with handfuls of chips and parents are sipping cocktails and tucking into wheels of brie. The chatter escalates with an air of satisfaction. Peisey-Vallandry caters to families like no other, and in 2015 this Club Med was chosen by TripAdvisor as the Best Family Resort in France.
As a cover band is playing Neil Young, children are laughing, libations are flowing and everyone is noshing before freshening up for dinner and nightly activities.
Some head down to the heated indoor-outdoor pool, saunas and steam rooms while others luxuriate in the CARITA spa or get a relaxing après ski massage. I leapt at the opportunity to experience a full body relaxation massage and the hour went by in the blink of an eye.
Refreshed for dinner, I change into as-all-white-as-I-can-get, for our dinner theme night at La Vanoise dining room. Wardrobe and cuisine theme nights are a tradition at Club Meds worldwide, although they have relaxed that at Peisey where pretty much anything goes. The cultural theme is Morocco and the Moroccan food station radiates a party-like atmosphere. It is spearheaded by Merlin, the always upbeat, resort manager (called the Chef de village – Club Med calls its resorts, villages). She is serving a tangy, slightly spicy dish of chicken and couscous from a tagine. Merlin's exuberant personality elicits smiles wherever she goes.
And when it's show time—7 different shows are performed at Club Med throughout the lengthy ski season – after dinner on the main stage, she is leading the charge along with other performing G.O.'s (short for Gentils Organisateurs (Genteel Organizers. TWe catch the tail end of the Latin Fiesta show, after a dinner upstairs at La Perra Menta.
This alternative to the buffet is an authentic French dining experience with a ski chalet motif, and offers a more intimate atmosphere than the main dining area. Raclette featuring duck, chicken, beef and peppers, and a cheese fondue are enjoyed here, along with charcuterie and their famous Savoyard salad – a regional salad with Jambon cru (country ham), mushrooms, lettuce, walnuts, apple, celery and endive.
Dinner here, is included in your Club Med package but make sure you book 24 hours in advance. I recommend the tiramisu. It will give you that energy jolt needed for the after-show party and late night dancing downstairs at La Varet.
When you are ready to retire, a spacious room awaits all turned down with red and gold accents. There's enough furniture to entertain a second family and enough storage to conceal a caravan of skiwear. You can luxuriate on the comfy bed watching British and continental cable or enjoy a cocktail on a private balcony, many with mountain views.
A ski package at the four trident, Club Med Peisey Vallandry includes: ski pass, lessons, all meals, accommodations, open bar, flight, transfers from the airports at Geneva or Lyon, shows, non-ski activities, and important at a family resort —free childcare for children under 4. There are programs that cater to each age group for an extra fee and if you want, you need not see your children from 9am to 9pm. I'm sure they will be happy about that too.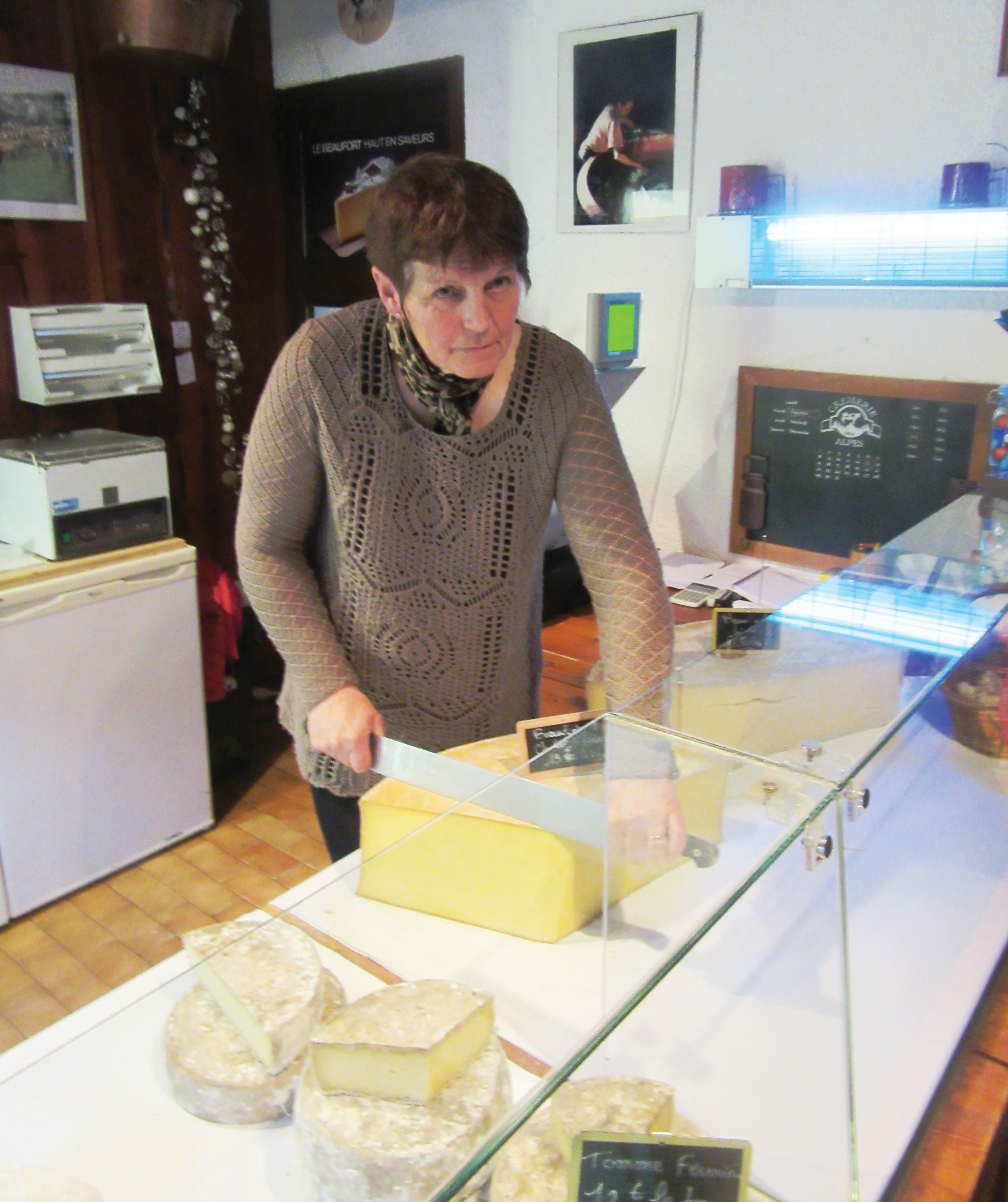 THE REGION
There is a great deal to see and do throughout the Auvergne-Rhône-Alps region, from hiking, snowshoeing, and XC skiing to Nordic walking, fat biking and dog sledding. Or explore the region, known as the pantry of France because of its wealth of meadows, orchards, vineyards and no fewer than 40,000 farms. It is considered the nation's top gastronomic region with seven chefs with 3 stars and 82 restaurants with Michelin stars. Nearby Lyon, is the second largest city of France and the capital of the region. Peisey-Vallandry is located within the  Savoie department of the region, which until 1860 was once part of Italy.  The Savoie is famous for its wine and cheese production and on any given night there are no fewer than a dozen local cheeses on hand at Club Med.  These include Reblochon, Savoie Gruyere, Tomme de Savoie and of course the famous Beaufort.
After a hike to a beautiful mountainside Baroque chapel called Notre Dame des Vernettes, a highlight is visiting the Poccard farm at Chalet Alpage, which produces 80 tons of Beaufort cheese and 1000 litres of the highest elevation milk (regarded as Europe's finest) per year. Valued for its quality, Beaufort, a pale yellow gruyere style cheese, is produced by Tarentaise or Tarine cows, which are adept at high altitude (over 2,000 metres) grazing.
I purchase a kilo in town for 17 Euros, but I have seen it sold at GTA cheese mongers for between $75 and $100 CDN. per kilo.
Back in Canada, customs allows you to bring in one kilo of cheese and that serves as my prized souvenir from the Auvergne-Rhône-Alps. Well, that and my wide-eyed tales of skiing and staying at Club Med Peisey-Vallandry.
Terry Lankstead visited the French Alps on a press trip sponsored by, Atout France, Club Med, Air Canada and Tourisme Auvergne-Rhône-Alpes.