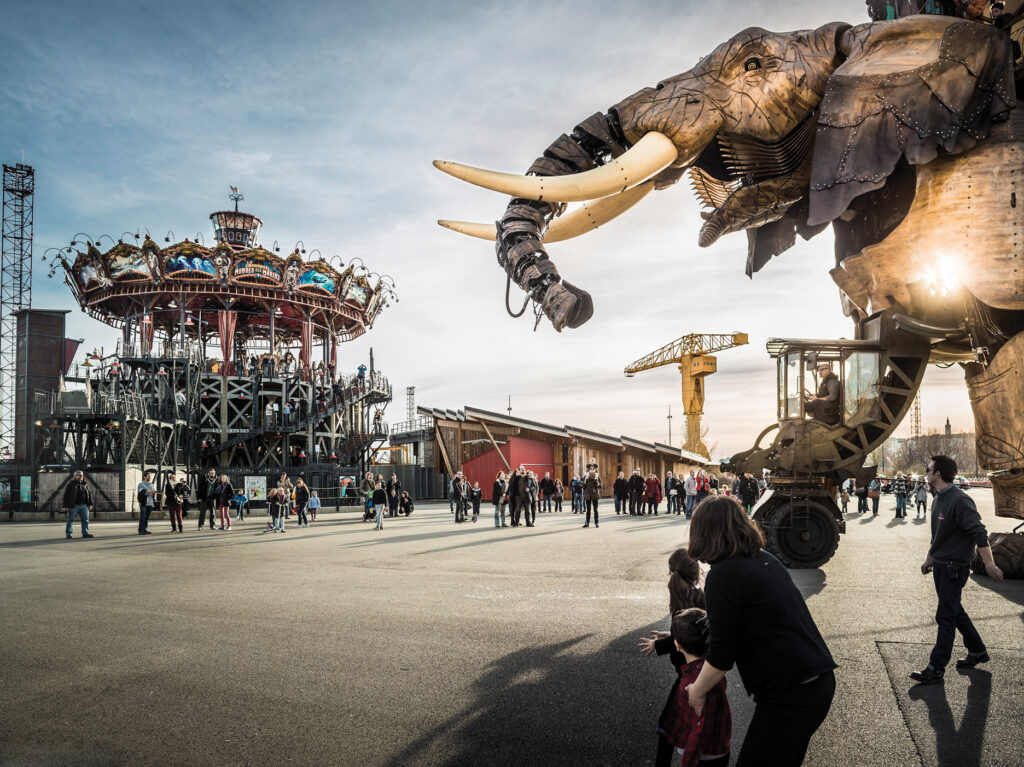 It's unimaginable to expect a city to rise and flourish after losing its main economic arteries but Nantes, located in the Pays de la Loire region of France, has done just that.
The last time I visited the beautiful French province of Brittany, located in northwest France, was with my family for an extended stay at a farmhouse (gîte) near the historic town of Pontivy.
I became enamoured with the rolling vineyard landscapes, the quaint villages of stone and timbered cottages, and the warm welcoming people. A twilight stroll along vineyard rows with a glass of wine in hand, as well as experiencing the Tour de France on a river bank in nearby Saint-Nicolas des Eaux (once again with glass of wine in hand), were also fond memories, which had me looking forward to discovering new areas in and around this beautiful region.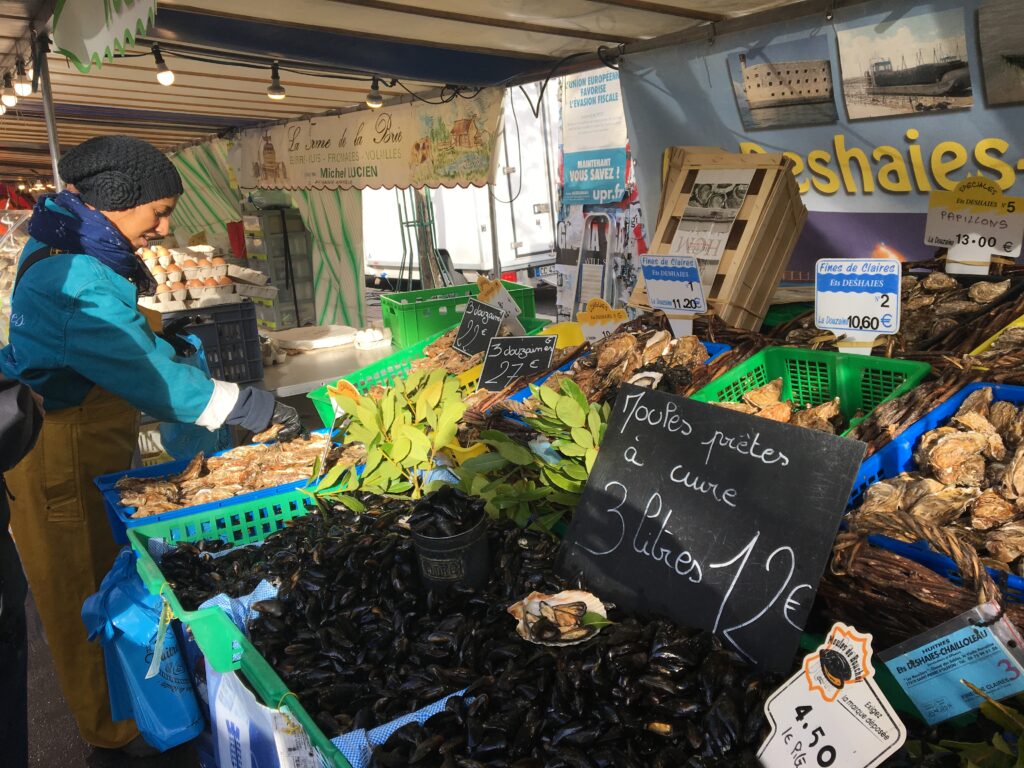 I'm feeling a great deal of excitement, chomping on a baguette with Beaufort cheese fresh from Montparnasse market, as our TGV (High Speed Train) from Paris rockets towards Rennes, Brittany's gorgeous and historic capital city.
Our tour group is also visiting the beautiful fortified city of Dinan and witnessing the launch of the 40th anniversary of the Route du Rhum solo yacht race from Saint-Malo. Combine this with spending a night at Mont-Saint-Michel, France's most visited landmark outside Paris, and exploring the ever-evolving city of Nantes, and you have a recipe for a magnificent French experience.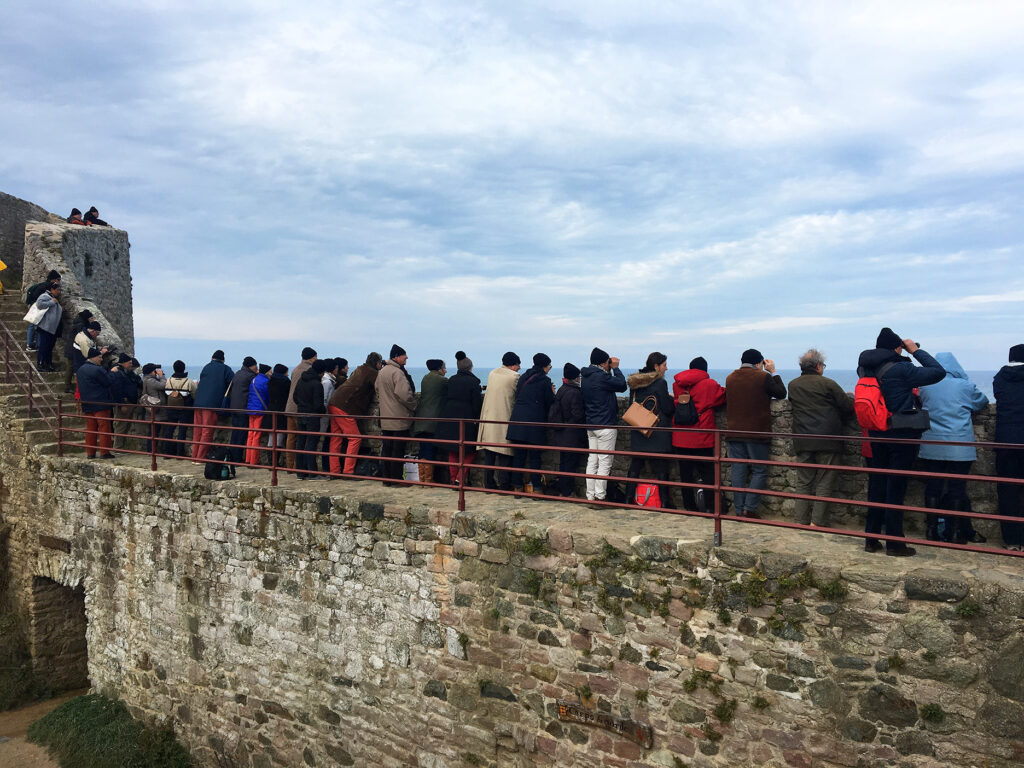 Once a capital of the Duchy du Bretagne (Dukedom of Brittany) when it was an independent feudal state until the mid-1600s, Nantes served as the main home of the Ducs de Bretagne (Dukes of Brittany) in the 15th century. And its storybook castle, Château des Ducs de Bretagne still serves as an impressive Nantes attraction, complete with its own moat, drawbridge, fully enclosed courtyard and fantastic views from the turrets and castle keep. Since Brittany joined France in 1532 the castle, once regarded as the centre of Brittany, has served as a vacation residence for the kings of France, a military barracks and a prison.
On my visit, the Chateau is featuring three major exhibits including 'Vikings' from the Swedish Historical Museum, ROCK a history of Nantes' huge rock music scene – yes, it's true Nantes is a major player in the French rock music scene – and the permanent museum collection featuring the urban history of Nantes.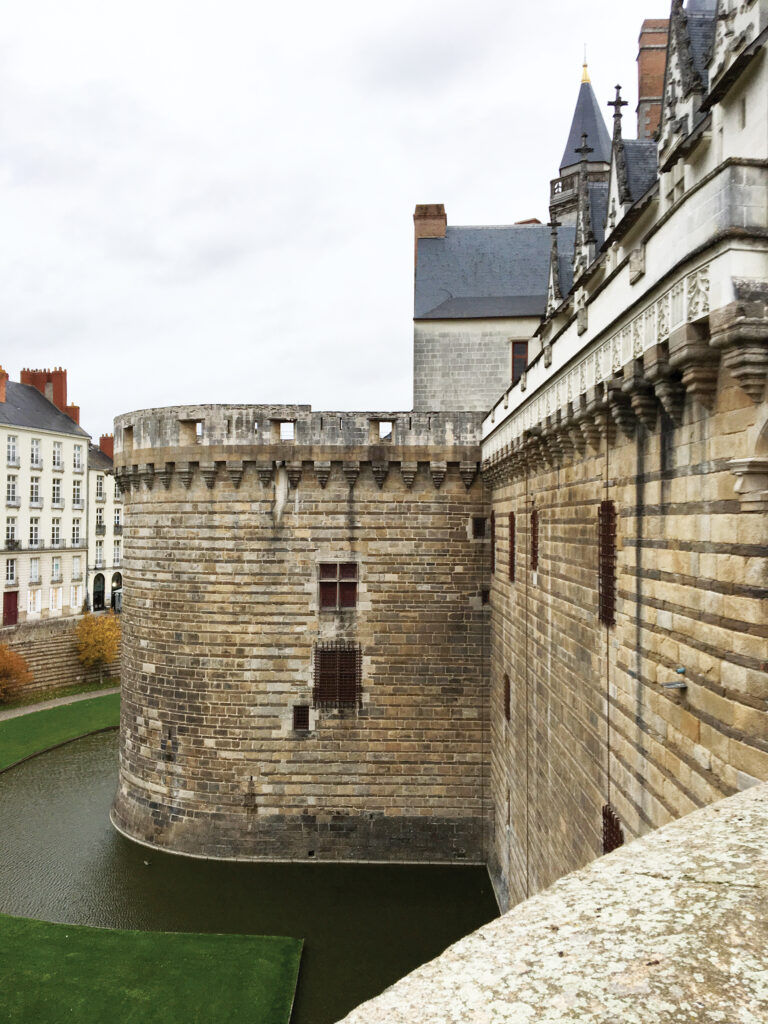 The chateau, museums, galleries and attractions, including the City Tour bus are all easily accessible with one city pass. The Pass Nantes, which is available at varying rates for one, two or three days, provides free access to more than 30 sites and all local transportation options as well as discounts on dining, shopping, and entertainment. I highly recommend it.
Navigating around the city is super easy whether on foot, bicycle (Bicloos available) or public transport. You can walk the whole downtown area in a day, although two days are recommended if you plan to take in everything on the Voyage a Nantes Trail.
Represented by a neon-green line painted along the sidewalks and city streets, the Voyage à Nantes Trail serves as a clever way to guide visitors to everything that is interesting and worth seeing within the city, including a lovely botanical gardens, a breathtaking 15th century cathedral, and an impressive newly-renovated art museum, Musée d'Arts de Nantes. Here you will find works by famous artists such as Picasso, Monet, Ingres, Seurat, Kandinsky and more. I'm lucky enough to take in an impressionist exhibit when I'm there.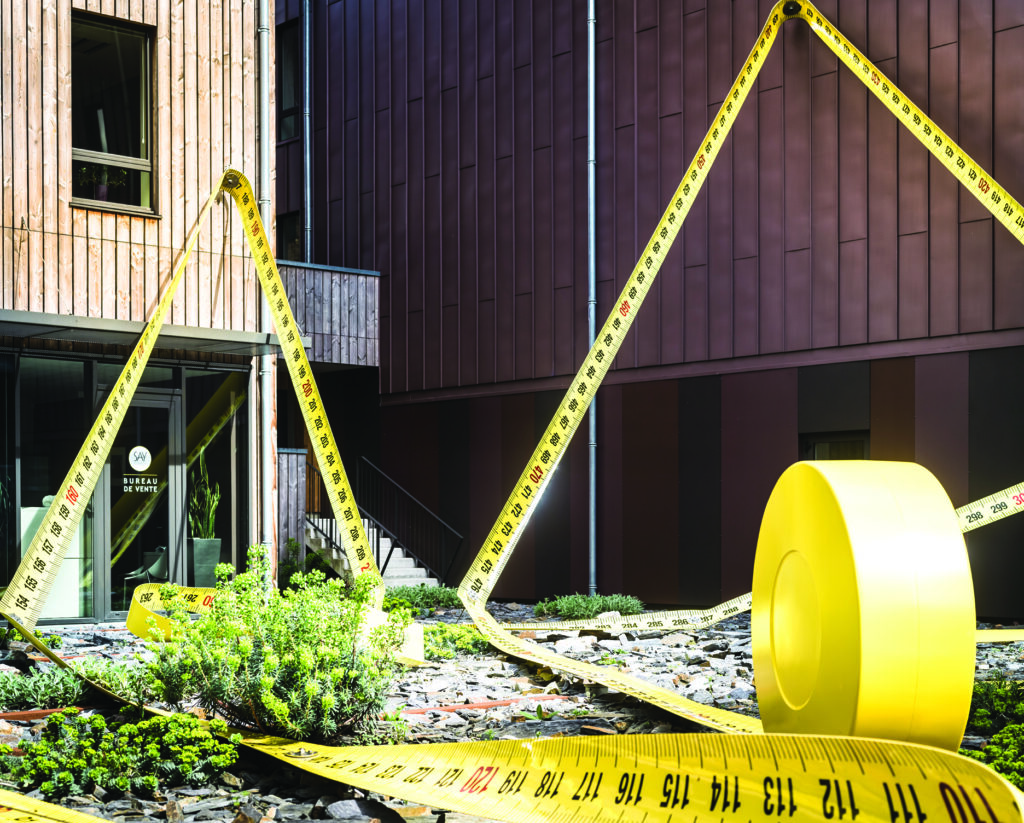 Also, along the green line you will discover the incredibly small 'Micr'Home' slotted five metres above ground between two shops in the city centre. This rentable living space covers a mere 26 square metres over three levels. Accessed by a drop-down iron ladder it features a living room/kitchen, bathroom/toilet and a bedroom.
Other notable surprises include random public table tennis tables, a curved soccer field where both goals seemingly face the same way, numerous sculptures, and decorated storefronts. For a complete list of permanent installations visit www.levoyageanantes.fr
Nantes' list of attractions is seemingly endless thanks mostly to the vision of local culturally inspired guru, Jean Blaise, who with the support of Mayor Jean Marc Ayrault in 2007, began the process of reinventing the struggling city of Nantes by introducing a biennial modern art journey called Estuaire.
The city had been in dire straits after losing both its shipyards and biscuit manufacturing facilities in the late 80s. Nantes had been a major shipping centre in France as well as the birthplace of LU Biscuits, short for Lefevbre Utile, the famed biscuiterie that produces 'Petit-Ecolier" (little schoolboy) embossed chocolate covered biscuits. The factory was shut down after LU was purchased by Kraft (now owned by Mondelez International) and the shipyard closed because coastal town, Saint-Nazaire, with its deeper basin just one-hour south, became the preferred choice for shipping and shipbuilding in the northwest. On our visit to Saint Nazaire they are putting the finishing touches on the newest Celebrity cruise ship. It's monstrous.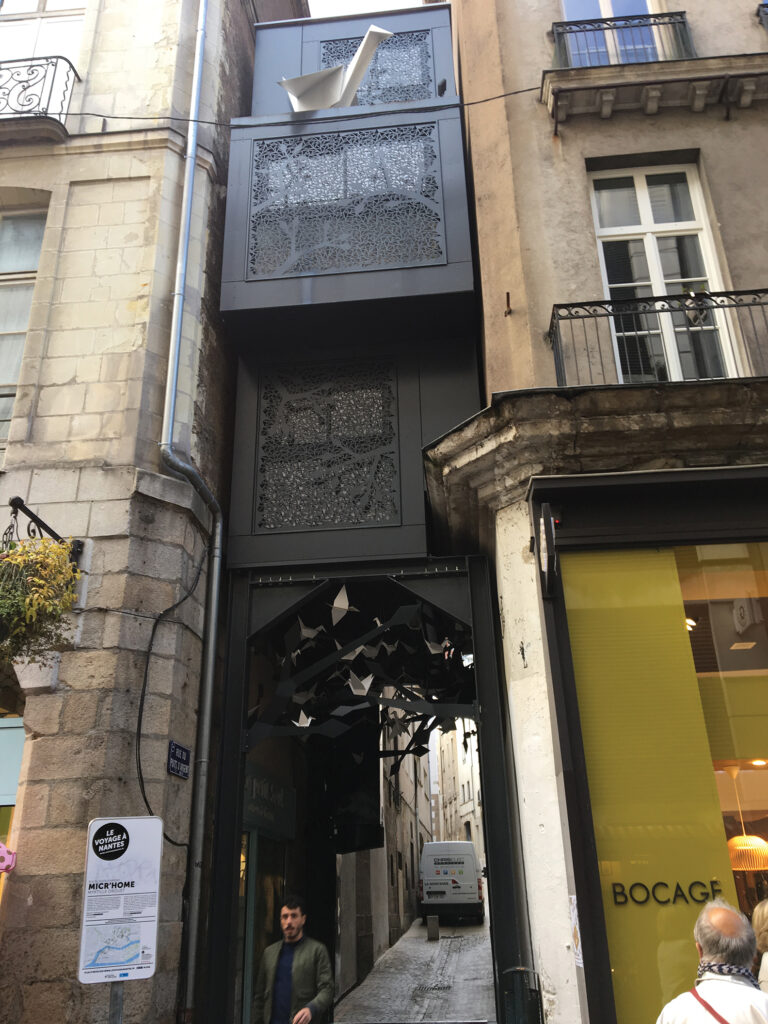 With the city in need of inspiration, Blaise teamed up with Ayrault to work towards reinventing Nantes as a world-class tourist destination. And they achieved all of this, through art.
Estuaire Arts Trail
First the Estuaire Arts Trail, established and evolving since 2007, features 30 permanent installations that commence in the centre of town and follow the 60 km Loire estuary to Saint-Nazaire and the sea. Each installation, designed by well-known modern artists, can be accessed on foot, by bike, by car and by boat. The installations are both arresting and thought provoking.
We take in some of these enroute to Saint-Nazaire. Highlights include what appears to be a Dali-esque seemingly melting sailboat draped over a lock on the estuary (attempting to escape a boat graveyard – you have to see it), a three-story leaning house in the middle of the Loire river that appears to grow and shrink with the tide, artist decorated rooms in a beautiful old manor house, and a giant 100-metre long serpent that dances with the ocean tides.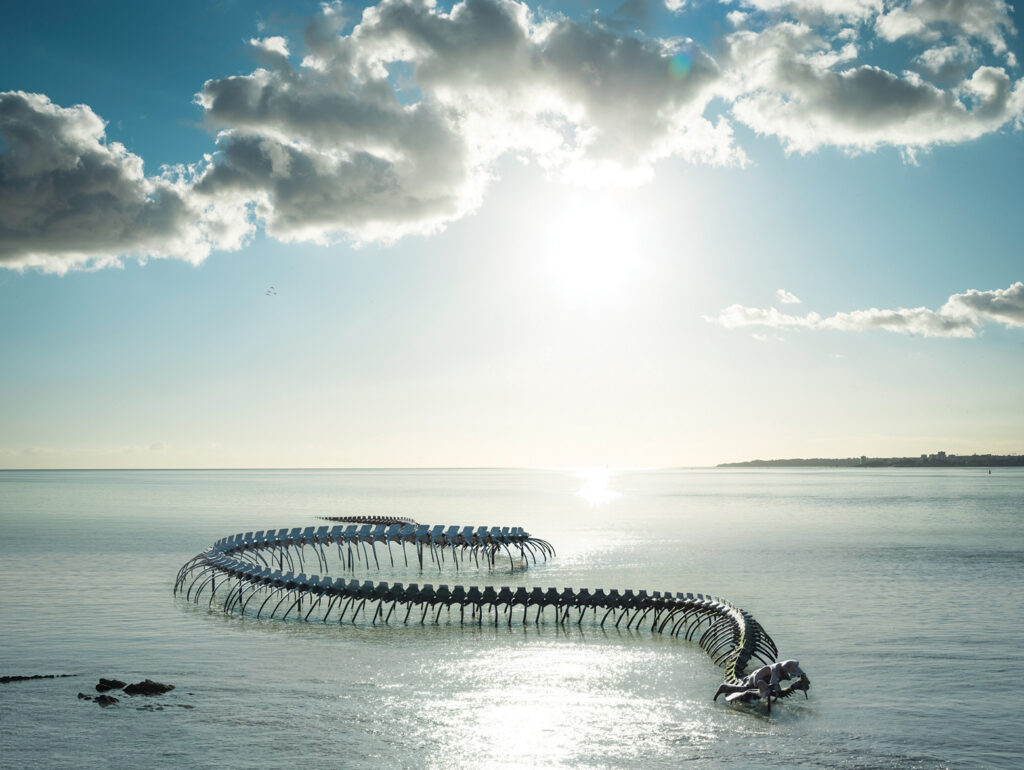 Blaise followed this up with Le Voyage à Nantes Trail in 2011 that piggybacks on a two-month summer arts and culture festival by the same name. I say piggybacks because each year a few installations are added for the festival that in turn remain permanent as part of the Trail.
Les Machines de l'Île
Arguably the most impressive feature along the green line located on Île de Nantes, the former shipyard lands across the river Erdre, is the recently opened "The Machines de l'Île." This interactive exhibit features giant rideable steampunk-like mechanicals including a Giant Spider, a Giant Ant that allows riders to control its legs and antennae, and a two-metre wide hummingbird that soars lucky passengers high above the museum floor.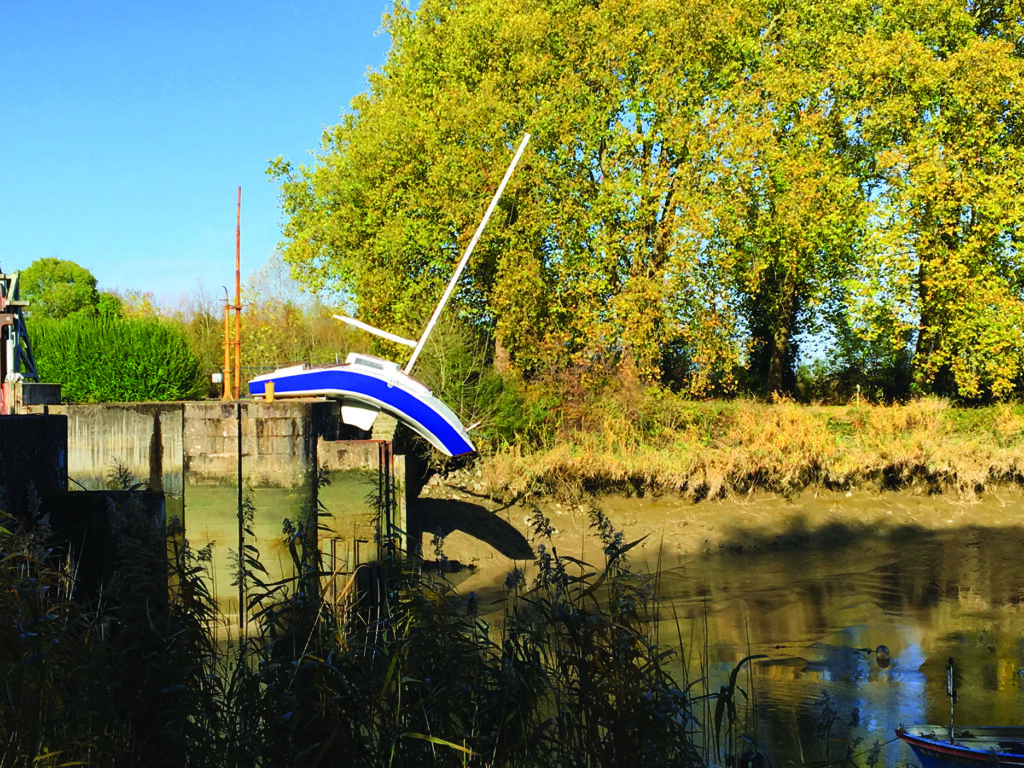 The main attraction, "The Grand Elephant" is the world's first enviro-friendly mechanical pachyderm, which marches four stories high and can transport up to 50 passengers.
Nantes has so many reasons to visit, but to witness and experience The Machines alone, is worth the 2-hour train trip from Paris. An added bonus to your visit to The Machines is an incredible three-story carousel of fantastic beasts, Carrousel des Mondes Marins includes creepy fanged deep-sea creatures and a fire-breathing dragon. I enjoy pulling the levers to smoke fellow onlookers! The Machines de l'Île is ever-evolving much like the city of Nantes, with plans to create a giant imposing mechanical tree, populated by more mechanical animals and insects.
This is all part of the grand plan to reinvent the Île de Nantes shipyards into a destination for locals and tourists alike. Former shipyard buildings have been repurposed into housing and colleges and with that comes restaurants, bars, shops and quirky parks.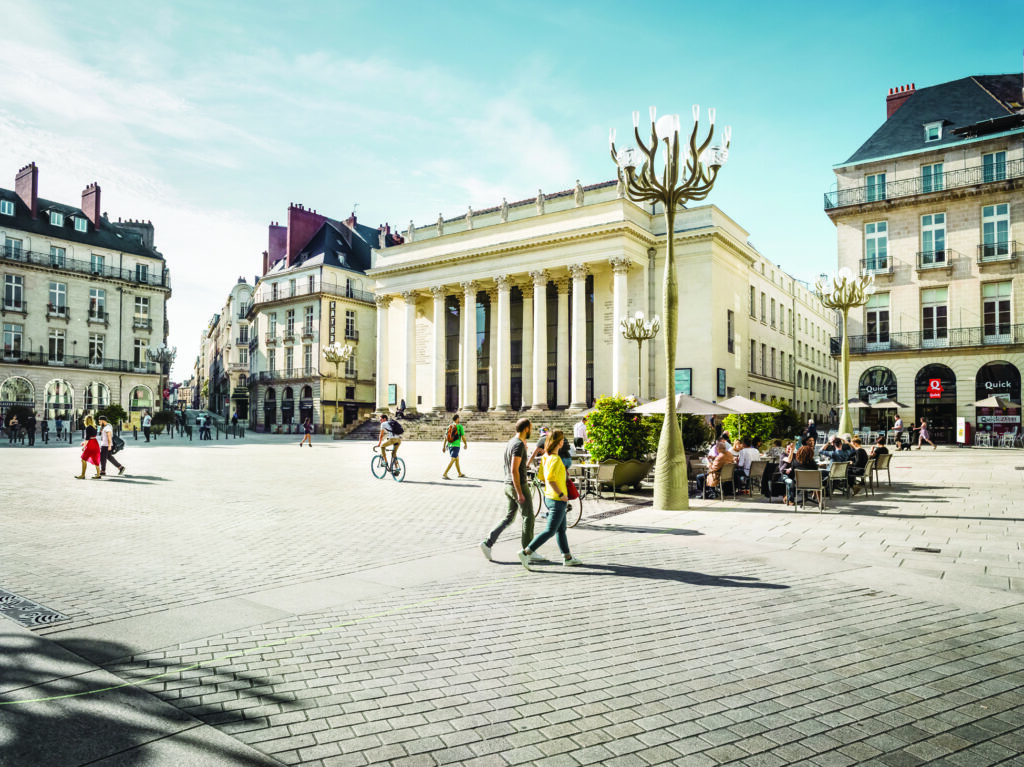 Memorial to the Abolition of Slavery
Although now it is recognised as one of the most artistic cities in France, Nantes was also regrettably responsible for a large portion of the French slave trade. Ships went from Nantes to Africa with gifts, and took slaves to the Caribbean in exchange for sugar, coffee and chocolate, before returning to Nantes. It was an extremely wealthy city in the 18th century, and in 2012 a 'Memorial to the Abolition of Slavery' conceived by the artist Krzystof Wodiczko and the architect Julian Bonder was created as a solemn reminder of Nantes' slave trade history. It pays tribute to those who struggled, and speaks out against all forms of human exploitation, while at the same time paying tribute to human diversity. Situated on the banks of the Erdre river across from the shipyards, the memorial consists of thousands of slave ship names embedded in plexiglass along a concrete path leading to another memorial display beneath the river bank. It is shaped like the hull of a ship and it is quite eerie as you look at the displays.
In addition to all the place-making ideas through arts and culture, and numerous annual festivals, Blaise also helped to establish a tourism bureau whose sole purpose is to promote culture and tourism in Nantes. It seems to be working.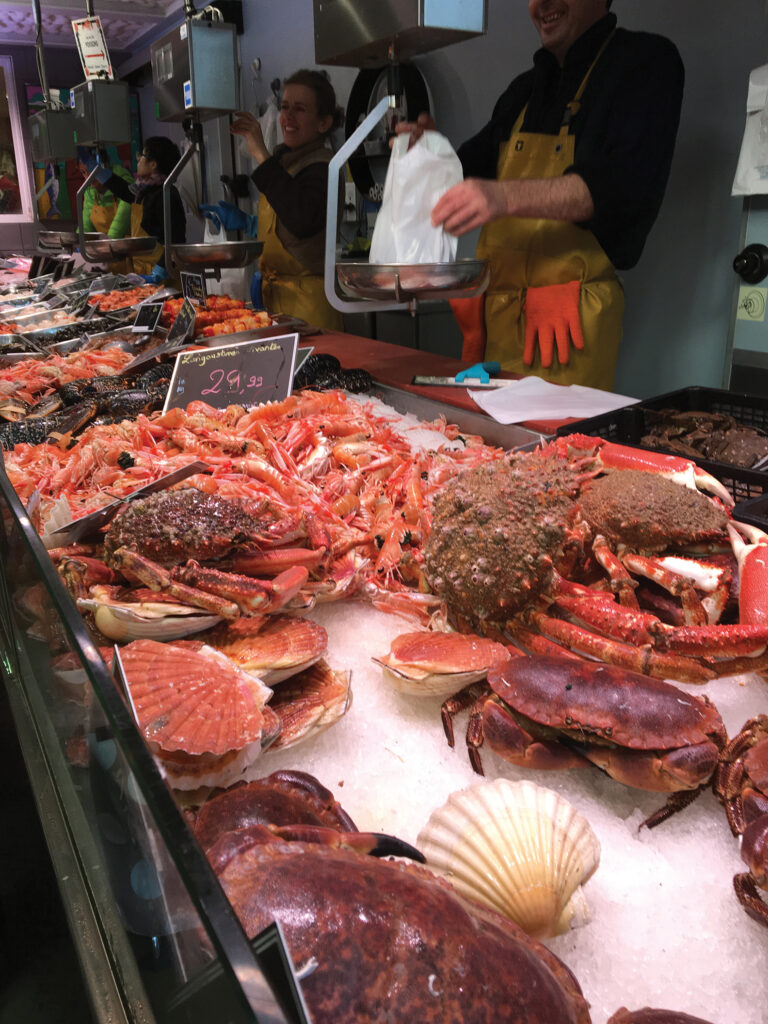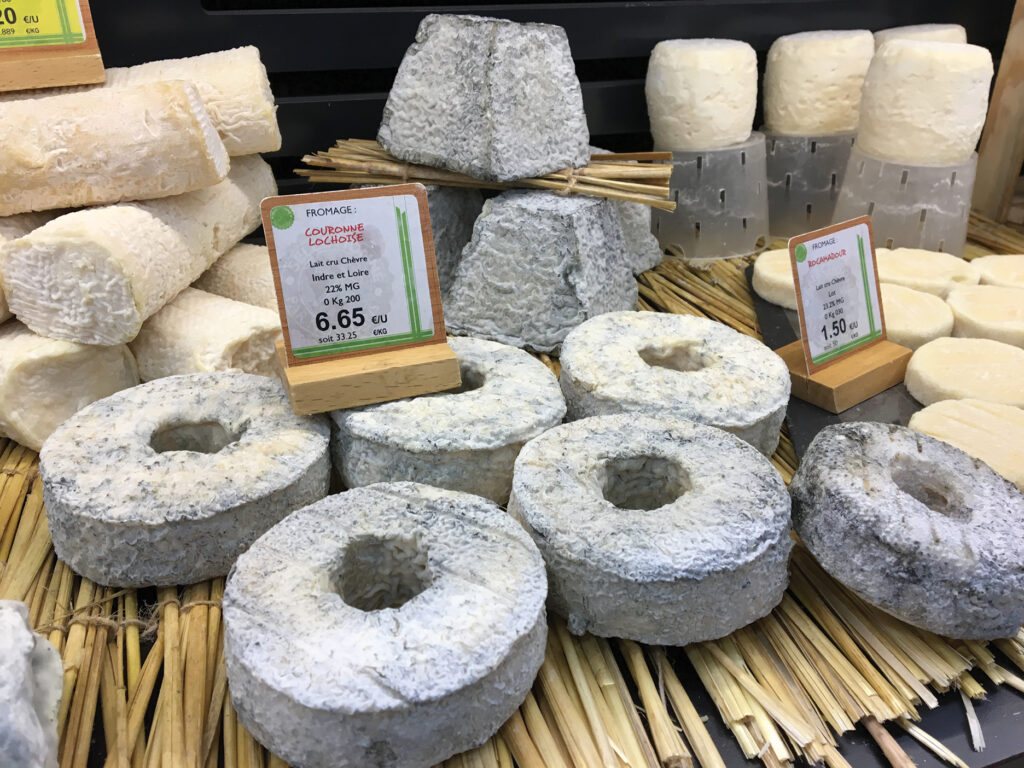 Cuisine
Nantais Cuisine is influenced by its proximity to the ocean, the Loire river and rural Brittany, and because Nantes was once a major seaport, more exotic flavours influence their dishes.
At Talensac Market, Nantes' oldest and largest covered market (open from 7 am to 1:30 pm daily except Mondays), it's super lively on the Friday morning that I am there. Here you will find abundant seafood, particularly oysters, mussels, langoustines, as well as sardines and seabass in addition to pike and eel from the rivers and local cheeses. The city is famous for its scrumptious Petit-Beurre biscuits and of course its Biscuits Nantais made famous by LU. Also popular are salted caramels, gateau nantais, chocolates and fougasse breads.
The city seems to have as many fromageries and creperies as we have Tim Hortons. The local wine for Nantes and Brittany is the Muscadet sur lie. It is a dry effervescent white that goes well with seafood of course.
For lunch try La passagere in the beautiful le Passage Pommeraye. It is a quiet out of the way bistro where locals like to meet for lunch because it's quick and intimate. Here you will delicious light lunches (try the quiche) and extremely decadent pastries.
For dinner check out La Cigale, a 19th century brasserie located in the square across from Theatre Graslin, which provides both a feast for the eyes with its Art Nouveau décor and a feast for those looking for traditional French cuisine. And for a nitghtcap head to Le Nid (the Nest) a bar/nightclub with sweeping views of Nantes' illuminated cityscape!