Often overshadowed by Kelowna, its bigger sister to the south, Vernon is a modest-sized town (population 40,000) quietly forging its own vibrant downtown identity with a brewpub, distillery, some concept bars and farm to table restaurants. There is a thriving performing arts centre, large public mural displays and a famous outdoor theatre nearby, along with downtown cafés and breakfast hangouts to attract discriminating hipsters and families alike. In short, Vernon is well worth checking out whether you are travelling to the Okanagan Valley for a 'Champagne Powder' ski trip or romantic winery tour.
How to get to Vernon, BC
Getting to Vernon is almost as fun as staying and playing in the area. The four hour 45-minute flight from Toronto to Kelowna on WestJet or Air Canada, becomes a jaw-dropping smartphone-snapping experience as you fly over the Rockies and no fewer than six spectacular mountain ranges before rounding the Okanagan Highlands for the final descent into the spectacular Okanagan Valley. After landing, a scenic 45-minute drive beside the Okanagan Lake– a vacation destination for numerous celebrities and NHL-ers– will get you to the twinkling lights of downtown Vernon and Silver Star country.
Top 5 things to do when visiting Vernon, BC in winter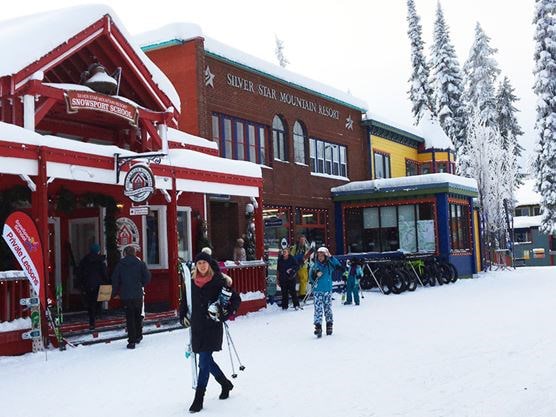 1. SILVERSTAR MOUNTAIN RESORT
Located in the Monashee mountains, SilverStar, just 22 kilometres northeast of Vernon, has the third largest ski experience in BC with 3,282 acres of natural skiable terrain covering four different mountain faces in the Okanagan region. With an altitude of 6,280 ft (1915 m) and 2,493 feet of vertical, SilverStar's 132 runs cater to intermediate and advanced skiers with some beginner options and impressive ungroomed backside steeps for experts.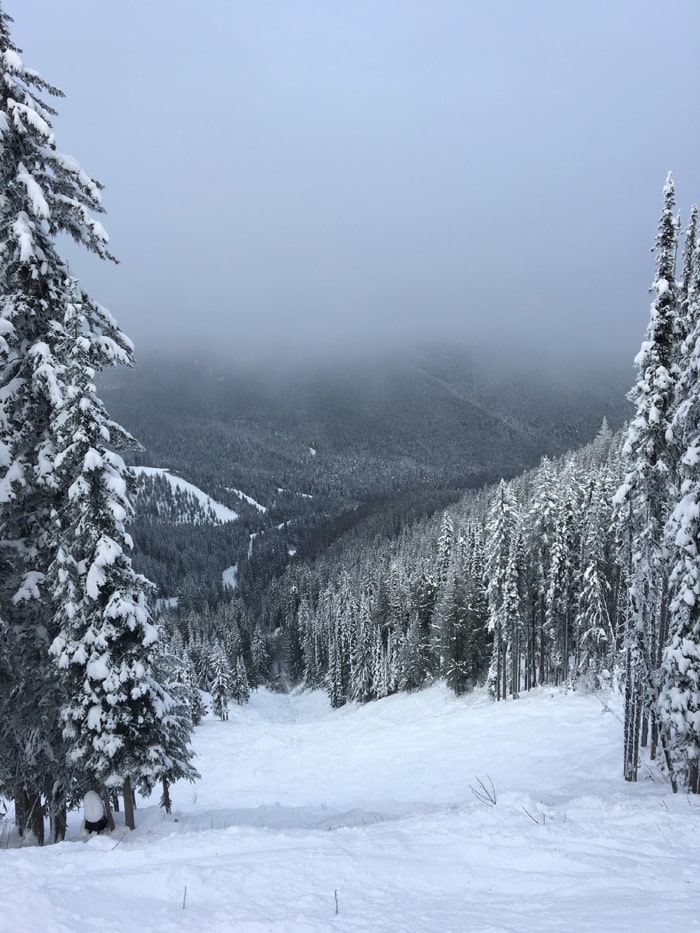 A 21-acre terrain park and 4 kilometres of night skiing, round out this complete family ski/board destination.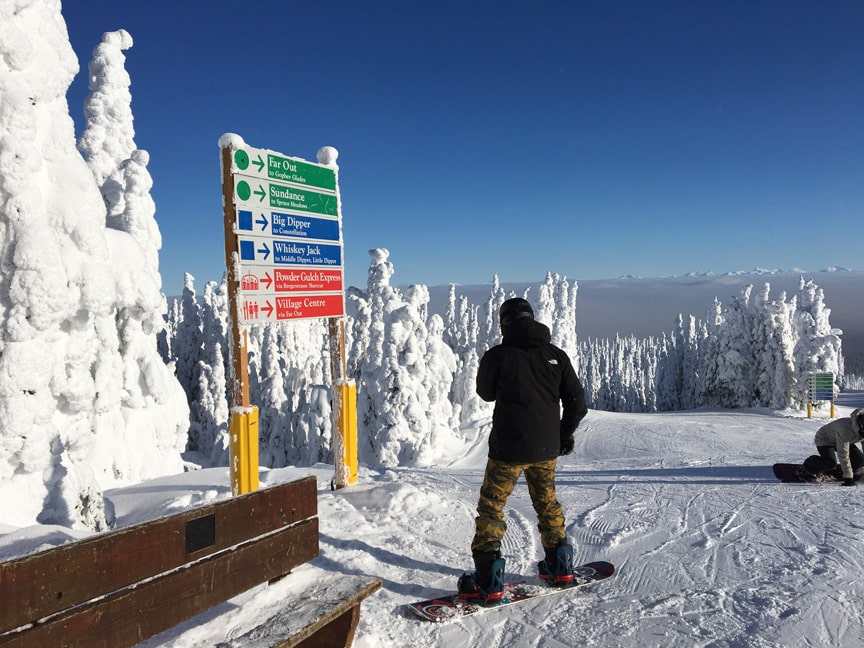 Part of the Powder Alliance – a group of 15 premier winter destinations, SilverStar is a veritable winter playground with abundant snowfall (700 cm per year on average) and dry champagne powder due to the semi-arid South Okanagan 'desert' air. And it doesn't get that busy! We still were skiing on corduroy at noon! Long wide frontside blue trails lined with skinny, whimsical, snow-laden Dr. Suess-like evergreens and ample steep and deep black and double blacks on the backside.
Recently, in 2018 SilverStar Resort, opened the super fast Dobbelmayr gondola that takes skiers and riders on a super scenic journey from the village to the summit less than five minutes.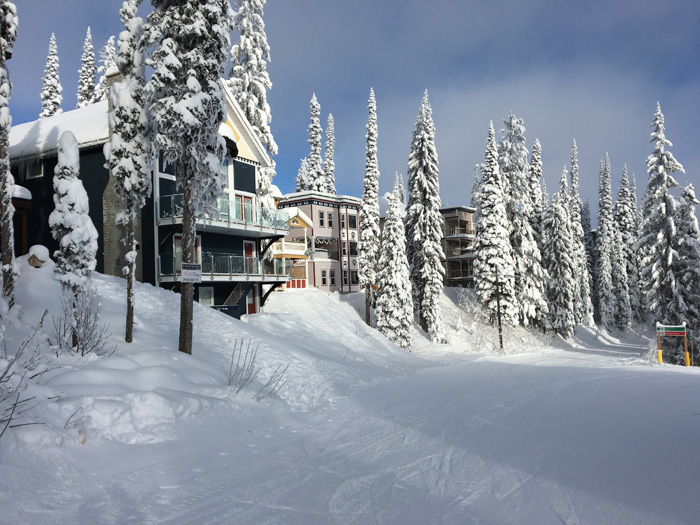 With abundant ski-in and ski-out facilities SilverStar is perfect for families. And the resort isn't so huge that the kids can get lost or get themselves into trouble. When you buy the My1Pass lift ticket it gives you access to all the other winter activities available at Silver Star. Tubing (Tube Town looks like fun!), skating (on Brewer's Pond 2.5 acre natural rink), snowshoeing (16km trails), fat biking (15 km of trails) and even bowling.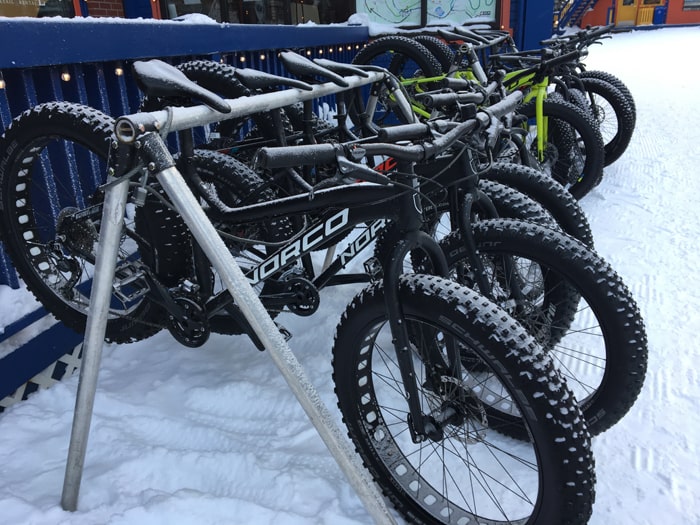 SilverStar is famous for its 150 kilometre cross country skiing trails comprising Canada's largest daily groomed cross country trail network combined with Sovereign Lake Nordic Centre. Recently the Dartmouth College (from New Hampshire) Nordic ski team was training there and USA Today ranked it as the top Nordic destination in North America.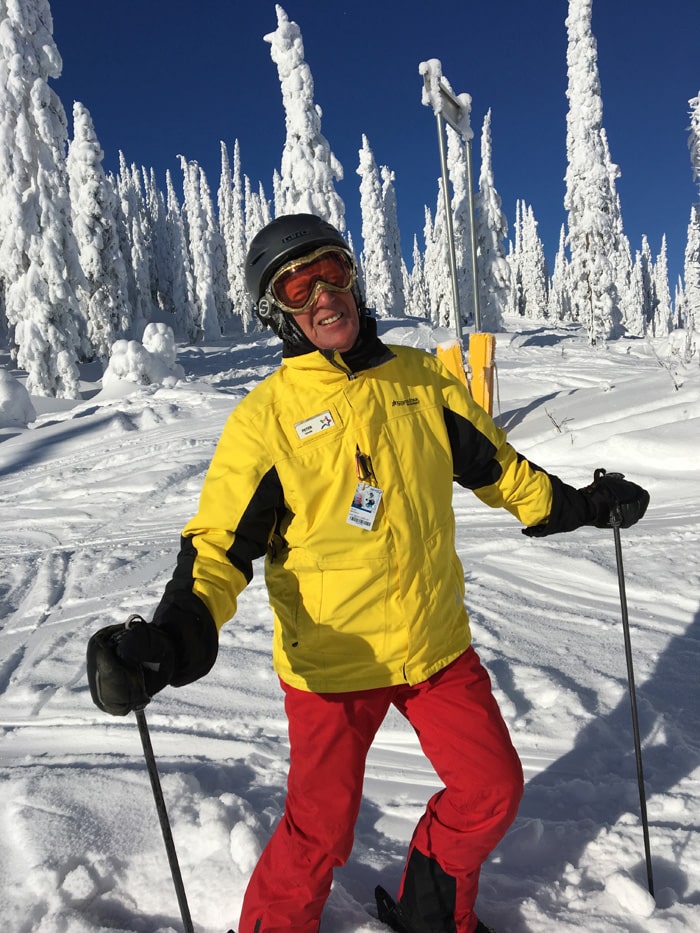 For luxury accommodations try Snowbird Lodge with upscale furnishings, fitness centre, lounge and more. Hit Bugaboos Dutch Bakery for their famous fresh cinnamon rolls and gourmet coffee, and Enjoy a juicy Elk Burger at the Red Antler for lunch. skisilverstar.com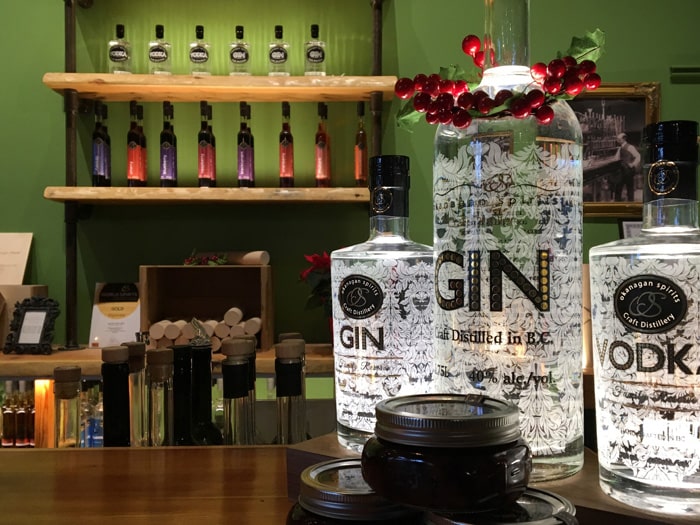 2. OKANAGAN SPIRITS CRAFT DISTILLERY
Started in Vernon in 2004, Okanagan Spirits is western Canada's oldest distillery. This gorgeous distillery achieves its 'Craft' credibility using Okanagan terroir-specific fruits and grains. They began with humble beginnings, using a 150 L wood-fire copper pot still, and started competing in Austria in 2005 with fruit-based brandies and liqueurs taking advantage of the excess fruit grown in the Okanagan.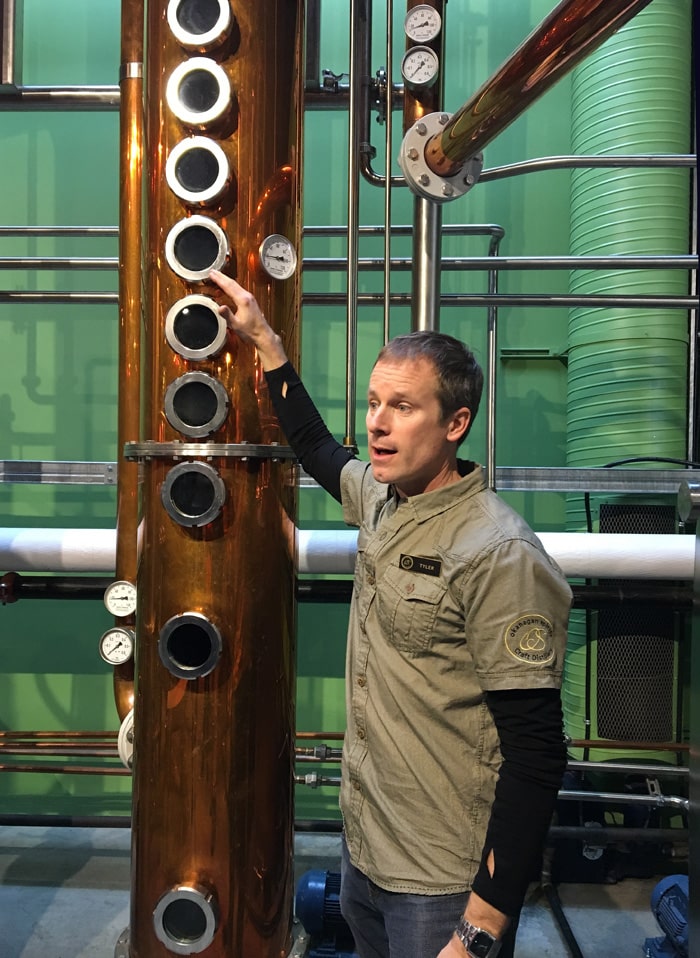 In 2013, and 2015 they were chosen Distillery of the Year at the World Spirits Awards in Austria and Denmark respectively, and their famous Black Current Liqueur holds the highest ranking 97.7 in the history of the awards. Get a bottle to take home–it's delicious and great over ice cream too.
Impressively now, Okanagan Spirits houses the tallest copper pot stills in North America enabling the distillery to achieve 92-94% proof and produce over 25 internationally awarded spirits from a single malt, to gins, vodkas and their renowned fruit brandies.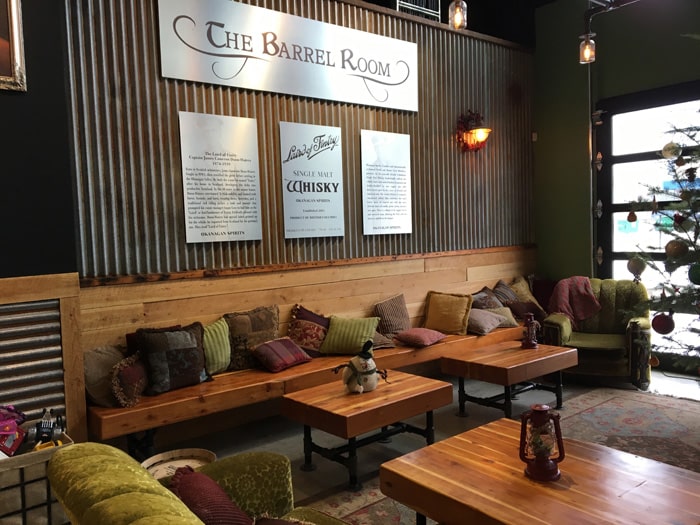 Their homey and welcoming Barrel Room and tour is well worth a visit. okanaganspirits.com/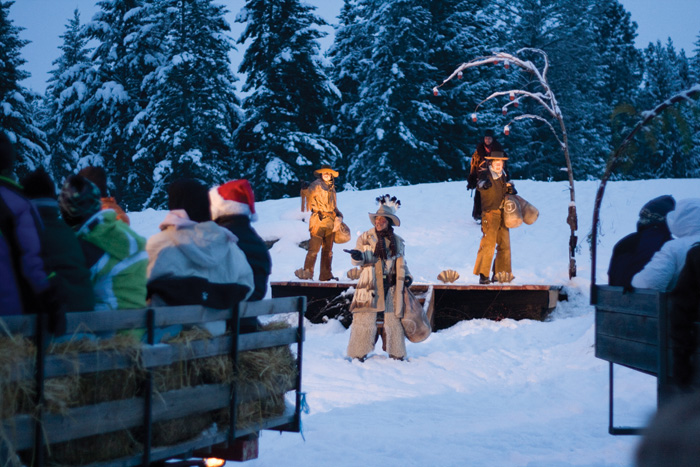 3. CARAVAN FARM THEATRE
Located about a half hour drive north of Vernon and 11 km northwest of Armstrong (home of the cheese company) the Caravan Farm Theatre is Canada's premier professional outdoor theatre company based on an 80-acre farm. The company holds several annual performances but their December Winter sleigh-ride show is simply magical. Here, the audience is transported in horse-drawn sleighs to a number of stages set up all over the farm, in the fields, the woods and in barns. The stages are lit by torches and each play engages the audience with heightened action involving, music, elaborate costumes, physical comedy, horses, dogs, kids, and whatever it takes to grab the audience. Make sure your bring a blanket, wear long undies and snow wear if you can and a flask of hot cocoa is also a good idea! caravanfarmtheatre.com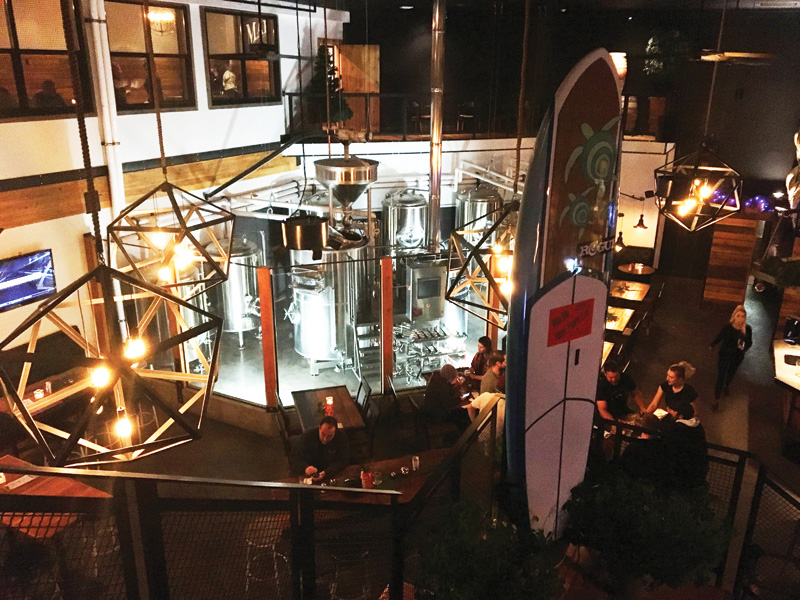 4. VERNON EATERIES
Marten Brewpub is one of Vernon's newest eateries shaking up the evolving hip restaurant and bar scene in the downtown core. Here, pub fare meets an industrial factory motif. Gourmet burger, flatbreads and fish tacos are hot menu items, but the main attraction is their in-house brews on tap including: BC Bud IPA (Co2 and Nitro), Rough and Dirty Red Ale (a house fave) and Cookie Monster Stout. They also host Cask Nights.
Across the street try the Midtown Bistro with its creative vibe as local artists' works adorn the walls. Candles, fresh-cut flowers along with upbeat music complete the cool, casual welcoming atmosphere. The simple but enticing menu places a strong emphasis on locally sourced ingredients. Their Nanaimo Bar Cheesecake is a huge hit! and so is the live music on weekends.
Also, check out Record City. It's a record shop by day and a live venue at night! For brekkie, Eatology is a really cool, casual café located at the Greyhound bus depot of all places. Chef Christine showcases local ingredients with simple tasty comfort foods.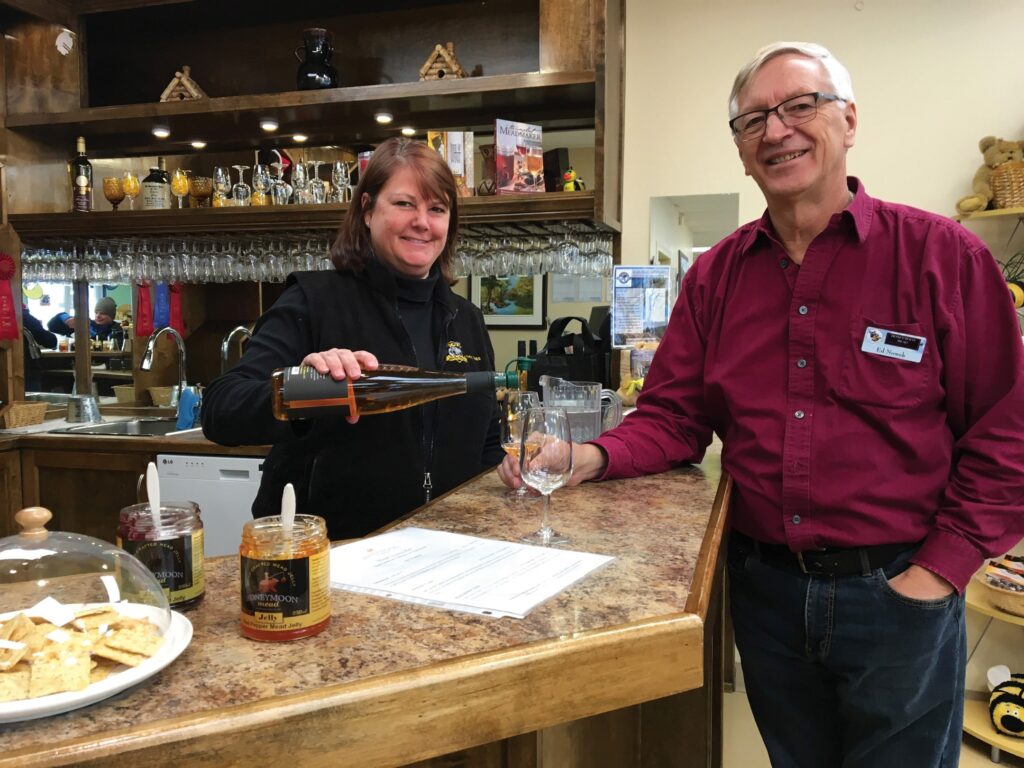 5.PLANET BEE HONEY FARM AND HONEYMOON MEAD
When you walk through the door you are overwhelmed with the aroma of beeswax and the sweet scent of no fewer than 20 varieties of honey, including their popular Okanagan Gold, all produced at Planet Bee. A visit to Planet Bee in Vernon is both informative and a great place for all-natural bee product gift-buying.
The Okanagan boasts the largest crop of almonds in the world and the bees are integral to their pollination. Don't miss their Honeymoon Mead tastings. Mead is an alcoholic blend (usually sweet) of fermented honey and water, with various fruits, spices, hops or grains). planetbee.com
A special thank you to Cliff Lannon of Vernon BC for providing information on the area's scenic lakes.
by Terry Lankstead, The Journeyist
This article first appeared in the Winter 2017 edition of GoodLife Mississauga Magazine
Note: Since this article was written SilverStar Resort, in 2018 has added a Dobbelmayr gondola