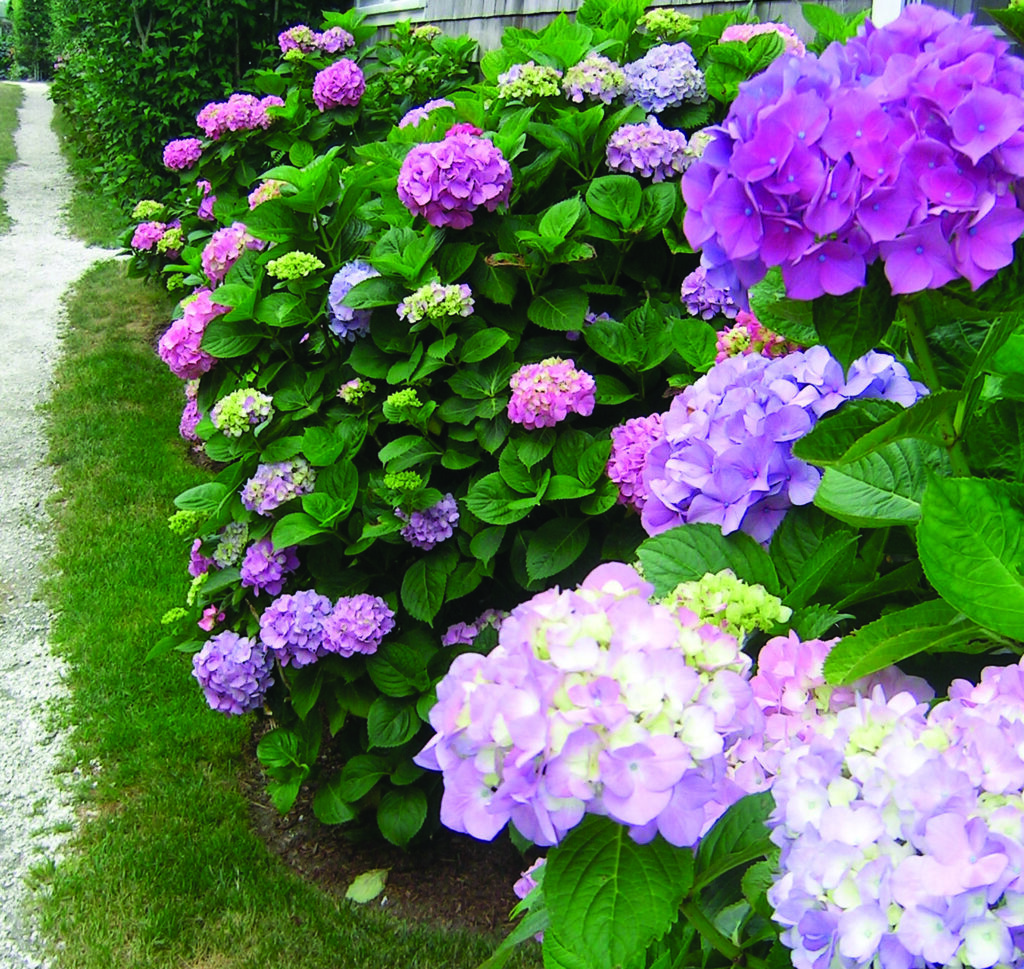 She can be shrouded in fog for days and she's populated by grey weathered cedar shingled houses.
Her wide open vistas offer an uninterrupted view of fog and shingles. Combine this with innate beauty and centuries old charm and it is befitting that Nantucket is nicknamed The Old Gray Lady.
But when the mystical fog lifts – and this can happen surprisingly as quick as its arrival – a magical land of vibrant colour is unveiled. From incomparable ocean views inward to endless sandy beaches, open heath-like moors with abundant wild rugosa roses, pitch pines and grasses, to serene ponds, salt marshes, creeks and cranberry bogs it is no surprise that Nantucket's diverse natural landscape is almost equaled by its residents' garden landscapes.
Nantucket – Steeped in Whaling History
Settled in 1659, the Island 25 miles (approx.40km) southeast of Cape Cod Massachusetts was a whaling centre until the late 1850s and has developed into a major tourist destination. An inspiration to writer's – including the famous Herman Melville (Moby Dick) and Peter Benchley (Jaws) – and artisans, the Island features a recently renovated whaling museum, three lighthouses including Brant Point, America's oldest lighthouse station, as well as four golf courses, cranberry bogs, an 18th century windmill, an observatory, 50 miles of beaches and a town centre that oozes history and charm.
According to local author/photographer Robert Gambee "No other town in America today has as many homes (over eight hundred) built in the period 1740 to 1840, almost all of which are located in their original settings."
Also of note, Nantucket has no traffic lights, neon signs, or fast food franchises. It seems that the year-round residents prefer it that way.
Nantucket's Plant hardiness zone
Because the Island is warmed by the waters and breezes of the Gulf Stream, and cooled by the Atlantic air, Nantucket gardeners enjoy milder winters and cooler summers than us folks in most of Canada. Their hardiness zone is 7b with temperatures rarely dipping below 5ºF (or -15ºC). (For Ontario hardiness zone information please see Ontario plant hardiness zone map). These slightly warmer temperatures combined with the damp sea air produce dramatic results for Nantucket gardeners.
Harsh winters
With a population that surges from about 10,000 to 50,000 due to tourists and summer residents, it is surprising that the gardens of Nantucket are so impressive. As some are left to fend for themselves months at a time. The Islanders (those who live their year round) describe their winters as harsh what with its infamous nor'easters and the occasional hurricane surging through, but Canadians are no strangers to harsh winter weather. One commonality to both the Greater Toronto Area and Nantucket is the harsh winter wind that demands at least some protection for certain plants. It is Nantucket's "harsh" winter elements that have contributed somewhat to the evolution of the New England island's garden style.
Characteristics of Nantucket Gardens
Privet Hedges
Because of the need to shelter plantings from the elements, the gardens for the most part have two noticeable characteristics. From the moment you venture off the town's cobbled Main Street you are overwhelmed by well-manicured privet hedges. And if you happen to be on the Island in July you may become overwhelmed by their intoxicating scent – similar to honeysuckle but turned up a notch because of the sheer abundance. The hedges come very close to the roads – which are narrow especially in town – serving as protection from both the elements and the public as well as a backdrop for the gardens that lie within. In some gardens, impressive ten foot privet walls are only interrupted by an arched privet doorway with mandatory gate and arbor below. The original use of hedges came from the British colonists who settled the area.
Unique Picket Fencing
Another distinctive technique to establish a framework for the garden is picket fencing. The Nantucket picket fence however, is like no other. Capped with a horizontal rail, they find their origin in ship building. Historically, ship's carpenters also spent time on land building homes. The fence is the type built by these craftsmen for larger sailing vessels. The rail acts as a brace for individuals needing to balance themselves on a rocking deck. On land, the ship-rail fence adds a neat visual element, a sense of finished order, and of course, it is another reminder of life at sea. I suppose because they are so close to the roads and walkways this unique fence style may also prevent one from impaling themselves if they have a spill on the way home from town.
Multi-Layered Effect
Occasionally the Nantucket garden will incorporate fence (already mentioned), arbour and hedge, creating a multi-layered effect. Picture from the street a red brick sidewalk bordered by a three-foot-high white ship rail fence set off by a low three and a half foot privet hedge followed by a couple of Rose-of-Sharon in all their glory on a late-August sun drenched day. Across a small lawn at the foot of the house the most popular choice for Nantucket gardener's is a swathe of enormous "Nikko Blue" hydrangeas which on many Island properties assume the very rare but intense purple tones that gardeners elsewhere can only dream of. This is the result of the neutral leaning slightly to the acidic PH level of Nantucket's sandy soil.
Nantucket Hydrangeas
Hydrangeas thrive on this picturesque island. There is even a local nursery that only carries hydrangeas. The Nantucket Hydrangea Farm Nursery has developed a native 'Nikko Blue' cultivar called "Nantucket Nikko" which predominates the landscape of Nantucket and Cape Cod. It varies from other 'Nikko Blue' only by being grown from known sources, found to be consistently hardy and floriferous. Most islanders incorporate hydrangeas into their garden landscapes either massed as foundation plantings or poking through ship rail picket fences. Their colours vary from intense to soft blue and purple to reddish purple. I have yet to see a pink hydrangea on the Island.
Town plantings will often include enormous lacecap hydrangeas just to add variety to the massed mopheads. In the Greater Toronto Area, the cities commonly plant for winter and fall interest. Ornamental grasses with low growing Mugho Pine, dogwoods, sedum and black-eyed susan are some of the mainstays. Whereas the Town of Nantucket takes its cue from local gardeners by massing plants like hydrangeas, black-eyed susans or cosmos for stunning colour impact.
Siasconset Garden Style
Leaving town and venturing to Nantucket Island's quaint village of Siasconset (pronounced Sconset for short) another distinct garden style comes into play. 'Sconset is a destination for tourists in late June-early July to witness the intense display of climbing roses that grace most of the charming centuries old cottages. Residents of 'Sconset take ship-rail fences to a heightened level often using them as a frame for there collection of old roses. They exploit every possible application of roses in a landscape. From blending into English Cottage Gardens to clamouring over fences and arbors to formal rose gardens to – wait for it – covering almost entire cottage roofs, the 'Sconset Gardener is truly a rose worshipper.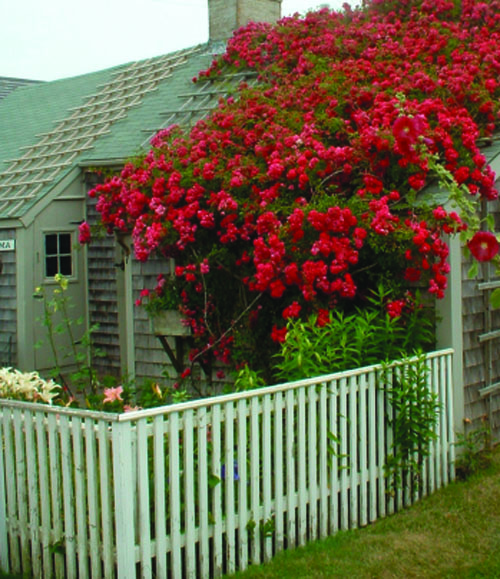 Rugosa Roses
And not only are the cottages covered in roses but a trip out to 'Sconset in early July also showcases the wild Rugosa roses that perfume the entire island with their apple blossom scent. These blooms give way in mid-summer to showy red hips and the leaves go from yellow to orange to red in the autumn.
But you don't have to go to Nantucket to incorporate any of these garden design elements. Just follow this recipe below.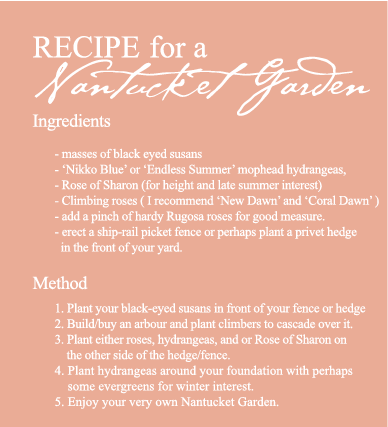 GETTING TO NANTUCKET
By car
11 hours to Hyannis, Cape Cod, MA via New York Throughway and Mass Turnpike followed by two-hour ferry or one-hour fast ferry.
By plane: Toronto Pearson Airport or Fly Porter from Toronto Billy Bishop Airport to Logan, Boston, connection to Nantucket
story and photos by Terry Lankstead