SAINT-PHILÉMON, October 18, 2023 – Massif du Sud resort (MDSR) has the wind in its sails and is unveiling the new features that await skiers and snowboarders for the coming winter. The five new accommodation units and the 25% increase in skiable terrain thanks to a new backcountry area, will certainly be the most noticed new features. Also, keep an eye out for the purchase of a magic carpet, the innovations at the bar "Le Sous-Bois", the addition of its own coffee shop in the main chalet, a new Van Life zone and an improved parking area including 6 charging stations for electric vehicles.
In addition, the $2.3 million announced for this winter is only the beginning of a new era, while other new features and developments, part of a five-year development plan, will be announced over the course of the next few months. Inevitably, the MDSR will become a must-visit four season destination for mountain enthusiasts from here and elsewhere! 
LODGING
New cabins near the base
Five micro chalets, made of solid wood by a Quebec company, will be placed in the magnificent surrounding nature of the MDSR, at the dawn of the new ski season. Fully equipped and welcoming 4 to 8 people per unit, they will be the first of a mini village of around twenty chalets which will be completed by the end of 2024. This little corner of paradise will be accessible via a private street with parking provided, but also from the base of the mountain via a path accessible on foot or via a skin track. It will be possible to reserve your unit online from mid-December via the MDSR website.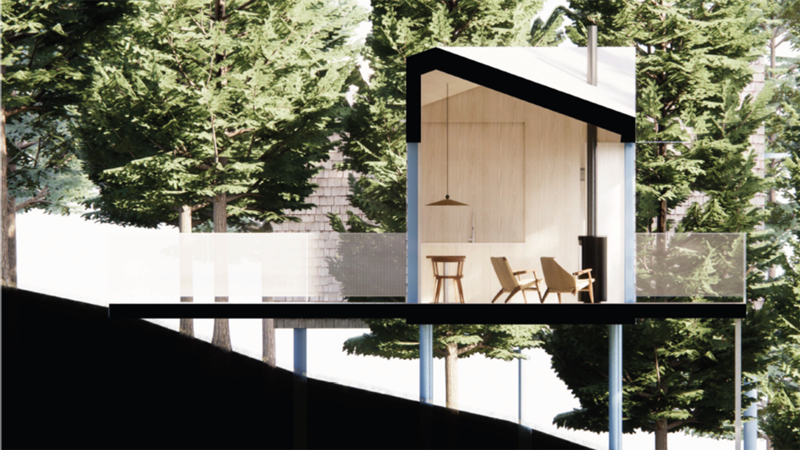 Models of the micro chalets to come, courtesy of the Québec company SOKÏO Industrie.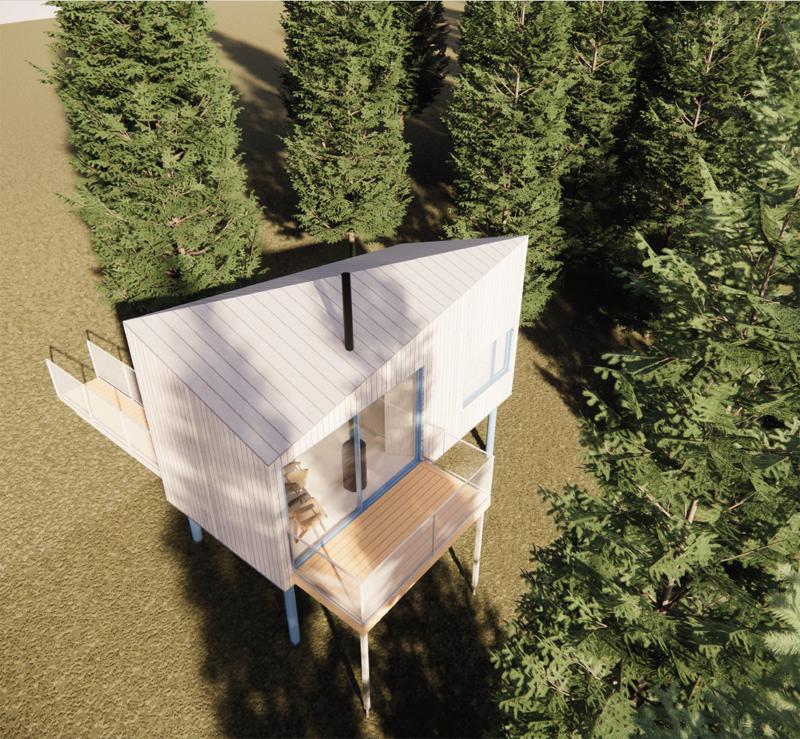 A nod to out-of-town customers: a new fully bilingual website will be launched shortly, a first for this Chaudière-Appalaches resort, located near Quebec City.


MOUNTAIN

1.  The ski area grows its terrain by 25% thanks to the new 5th dimension backcountry area. A new 120-acre backcountry skiing area will be accessible this winter, offering vast and natural wooded terrain. The resort is already well known for its amazing glade runs. It will be possible to access it with skins from the base of the mountain, or from the summit after taking the main ski lift and an access trail. A new ticket offering two chairlift rides (versus unlimited lifts for regular customers) has been tailor-made for users in this sector! Once at your destination, you can do as many descents (and climbs on skins…!) as you want.
In this same vein of excitement around backcountry skiing, MDSR has also acquired a Trooper Snowcat, a machine from the Prinoth groomer family which, thanks to an attached cabin, can transport a group of people. Thus, offering the experience of backcountry skiing in a magnificent natural area, located around ten kilometers from the mountain base (return transport offered 2 days/week, upon reservation, autonomy on site with a guide).

2.    New Prinoth BISON S Groomer
In order to optimize grooming, this new acquisition is more efficient, making it possible to offer quality snow conditions in all types of weather. The purchase was made possible thanks to a grant from Canada Economic Development for the regions of Quebec through the Association of Quebec Ski Resorts.

3.    New magic carpet lift coming for beginners
Development work has been carried out in the mountain initiation zone in order to accommodate a new magic carpet-type lift, which will be installed for winter 2024-25. This will serve the beginner area to facilitate the snow sports initiation experience. This winter, you can access this "low incline" area by foot to discover the first pleasures of snow sports.

APRÈS-SKI

The new Van Life Zone, accommodating up to 25 vehicles, responds to a demand that has continued to increase in recent years! This clientele will be able to reserve their location online and during operation days, will have access to the services of the main chalet (including showers). At the same time, major repair and improvement work was carried out in the mountain's main parking lot, including the addition of six charging stations for electric vehicles.

And because after a day on the slopes, it's not over…
●  Après-ski reinvented at the bar "Le Sous-Bois" to accommodate more people, in a quality location: new sound system and large screen, new stage and open layout;
●  New coffee shop with breakfast service and smoothie bar;
●  Cultural project: exhibition of works of art in the ski chalet, highlighting the MDSR ski culture, created in collaboration with four well-established Quebec artists.