MISSISSAUGA, July 13, 2023 – The Caribbean now has its first ocean swimming pool and its located at Wymara Villas in Turks and Caicos. Ocean pools offer the best of both worlds. They provide swimmers all of the poolside comforts with the thrill of a seaside swim. Add in breathtaking views, and it's a win-win situation every traveler should experience. While Australia's coastlines are famously dotted with ocean pools dating back to the 1800s, until now, the Caribbean hasn't embraced the natural appeal of ocean-fed pools. But Wymara Resort + Villas owner Bruce Maclaren had a vision. 
Several years ago, Maclaren set out to develop Wymara Villas perched on one of the highest points of the secluded Turtle Tail peninsula, a short 7-minute drive from Wymara Resort. Now an intimate community of one, four and five-bedroom modern masterpieces, each villa offers guests a private pool, expansive ocean views, and exclusive access to a state-of-the-art sports club. Next, Maclaren set out to create a luxurious beach experience to compliment Turks & Caicos' famed Grace Bay Beach where Wymara Resort is located.
MIND-BLOWINGLY BEAUTIFUL
The newly formed Sunset Cove Beach is now an aquatic oasis fringed by palm trees, an expansive manicured lawn, and the same blindingly white sand and crystalline turquoise waters the tropical island is known for. But Maclaren, the Canadian born businessman who lived in Australia for over 20 years before moving to Turks & Caicos in 2008, wanted to take it one step further. Last year, he set out to construct the ultimate amenity, an ocean pool that measures 130 ft long by 30 ft wide, spanning nearly 3,900 square feet.
Now ready for guests to take a dip, the stunning swimming spot features a shallow end that is 3 to 5 ft deep (depending on the tide) and a deep end that plunges 6 to 9 ft, with a soft, sandy bottom throughout.
"While ocean pools aren't just an Aussie thing, they do inspire a kind of fervor there that borders on the fanatical," says Wymara Resort + Villas owner Bruce Maclaren. "They're probably more in the public eye now than ever. Maybe it's Instagram — they're so seductive to photograph. But having experienced the benefits of ocean pools and the communities that evolve around them, I thought, well, maybe we can do this here."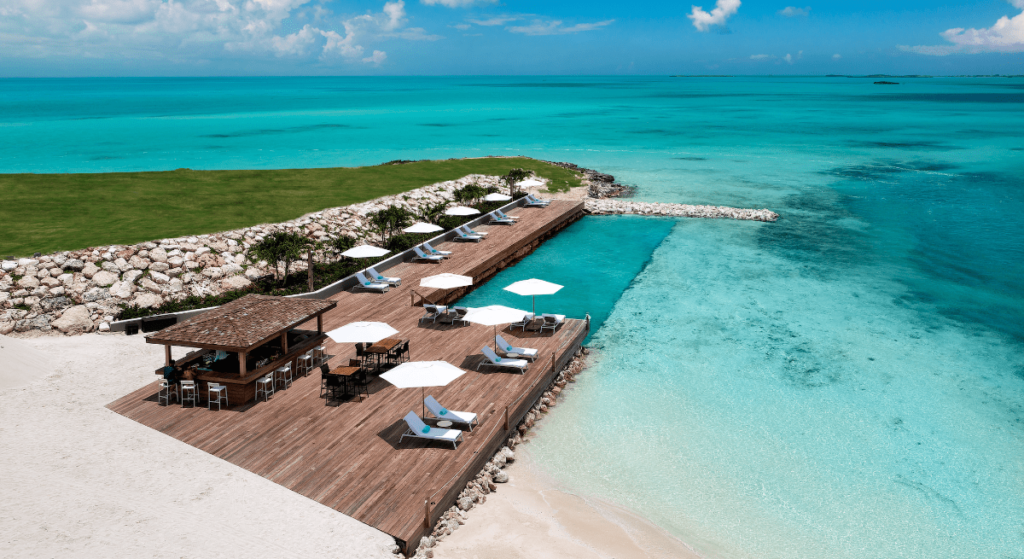 TAKE LAP SWIMMING TO THE NEXT LEVEL IN A NATURAL SWIMMING POOL
The natural swimming pool, which gets replenished with fresh seawater from the Atlantic, is carved out of the coastal rock and lined by an expansive timber deck that spans the entire length of the pool. Featuring a tiki bar and stylish sun loungers and umbrellas for shade, guests can take breaks from sipping spritzes to dip in and out of the refreshing, salty sea while soaking in the serene views. The vibrant, rich colors of the pool's sea-fed waters are the perfect spot to cool down, minus the need to worry about waves crashing into you.
At high tide, the natural stone walls framing Sunset Cove's ocean pool disappear to seamlessly blend with the turquoise waters of the Atlantic, creating the thrilling illusion of swimming in the open ocean. Its remote location gives privacy for swimmers, yet is close enough to Wymara's 5-star amenities offering something for everyone.
Anchored by the iconic coastline, Maclaren's ocean pool is a true labor of love. It's been built to facilitate an intimate encounter with the landscape while offering safe, sublime waters with boundless sea-and-sky views. Designed with a very sleek and modern vibe, it achieves the experience of soaking in seawater while overlooking the beauty of the ocean — albeit with a fancy drink in hand and limited potential of losing your sunglasses to the waves.
"I couldn't be happier with the results," says Maclaren. "With views of the bay and up the cliff to Wymara Villas, it's hard to imagine a more soothing setting to start or end the day off."
Future plans call for the opening of a new beachside restaurant and the availability of day passes. But for now, the Ocean Pool at Sunset Cove Beach is for the exclusive use of Wymara Resort + Villa guests, with access to a poolside Tiki Bar from 10AM to 7PM serving a variety of fresh cocktails, wine, and beer.
Now through October 31, 2023, guests who book three nights at Wymara will receive a fourth night free*. Stays include complimentary breakfast, water activities, and two tickets per reservation to Chef Andrew's Seafood Grill on Wednesday night or the Beach BBQ on Saturday night. 

THE OCEAN POOL AT SUNSET COVE BEACH BY WYMARA RESORT + VILLAS FAST FACTS
• 130 feet long30 feet wide3,900 square feet in size
• Shallow end is 3-5 ft deep depending on tide
• Deep end is 6-9 ft deep depending on tide
• Timber deck spans the length of the pool and measures 4,880 square feet
• More than 1,500 tonnes of rock were carved out to create the pool
• Excavations started in October 2022.